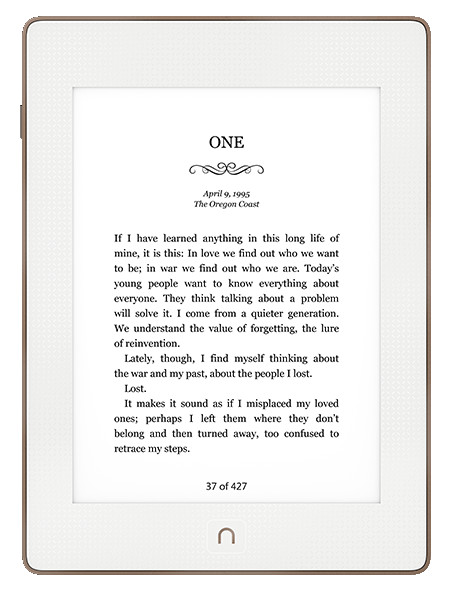 Barnes and Noble has released a new dedicated ebook reader called the Nook GlowLight Plus. It's available now online and from Barnes and Noble retail stores for $129.
The Nook GlowLight Plus is a 6-inch ebook reader, like previous Nooks. What separates this model is the fact that it has the latest high resolution 300 ppi E Ink screen.
Plus the new Nook is waterproof and dustproof. And it features an aluminum body for a higher-end feel and increased durability.
B&N also claims the screen is fingerprint and scratch resistant.
Given the fact that it's waterproof and scratch resistant, it probably has a flush glass screen like the Kindle Voyage and Kobo Aura, but it's impossible to tell from B&N's photoshopped images.
The new Nook comes with 4 GB of memory, with about 2.5 GB available for Nook and sideloaded content. Once again a lot of people are going to be put-off by the lack of a memory card slot and the limited amount of storage space. But at least sideloaded content isn't partitioned into a smaller space like the previous Nooks.
Battery life is rated at up to 6 weeks, a couple weeks less than previous Nooks. That's one drawback of 300 ppi screens—they use more battery power.
As far as waterproofing, the new Nook is IP67 certified. That means it can survive being in up to 1 meter of water for up to 30 minutes.
The Nook GlowLight Plus looks like a good ereader on paper (pardon the pun) with the high-res frontlit screen and waterproof design for $129. But I can't help but notice there's little mention of any new software-related features, except a new B&N Readouts discovery tool and profiles for sharing the device.
B&N continues to lag behind Amazon and Kobo in terms of software features: Kobo has a wide variety of font customization tools and added features like reading stats and translations; Amazon has things like X-Ray, Word Wise, Goodreads, exportable notes and highlights, instant translations, and so on.
Once again this new Nook has the feel of B&N wanting to give existing Nook owners a reason to upgrade, but they still aren't giving potential new customers many reasons to switch to using a Nook.
Check back in a couple weeks for a full review and video walkthrough of the Nook GlowLight Plus.