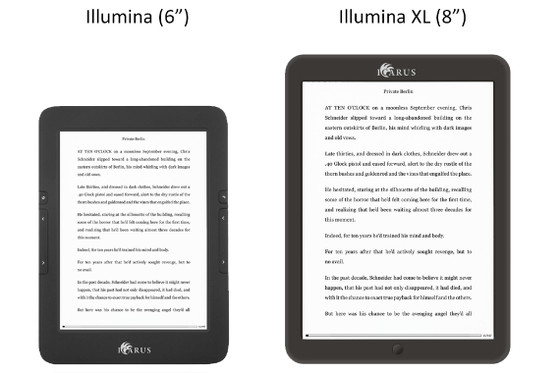 There have been a lot of people clamoring for larger E Ink ebook readers lately, and a Dutch ereader company called Icarus is looking to accommodate them with the upcoming release of the Icarus Illumina XL.
The Illumina XL is basically a bigger version of the 6-inch Illumina E653BK (Boyue T61) that was released last year (here's the review of it).
It's good to see another option come up for an 8-inch Android ereader; the Onyx Boox i86 is the only other alternative.
The only downside is the Illumina XL uses a lower resolution screen than the i86.
The Illumina XL has a 1024 x 768 E Ink Pearl screen. That equates to 160 ppi, which is pretty low compared to newer devices that come with 300 ppi screens. But if you like bolder text instead of sharp text it's not a big deal.
Plus the description says that the device supports sideloaded TTF fonts for ePubs—that's a plus. And of course the larger display would be better for PDFs.
Like the 6-inch model, the Illumina XL runs Android 4.2 and is open to install Android apps. It doesn't come with Google Play but it can probably be added by rooting.
The retail price for the Illumina XL is €199 (that equates to just under $225 US with current conversion rates). The device will be available at the end of November. They are accepting pre-orders on the Icarus website.
Icarus sells their ebook readers on Amazon as well, so perhaps the Illumina XL will show up there after it gets released in November to help make it easier to purchase from the US.
Icarus Illumina XL Specs
8-inch E Ink Pearl HD Display
Screen resolution: 1024 x 768 pixels
Adjustable frontlight
Wi-Fi 802.11
8Gb internal memory
MicroSD cards supported up to 32GB
Lithium Ion battery 2800mAh
Supported formats: TXT, PDF, EPUB, PDF, FB2, HTML, RTF, MOBI, DJVU, CHM, IRC, JPG, BMP, MP3
Audio support via 3.5mm headphone jack
Dimensions: 145 x 200 x 9mm
Weight: 275 grams