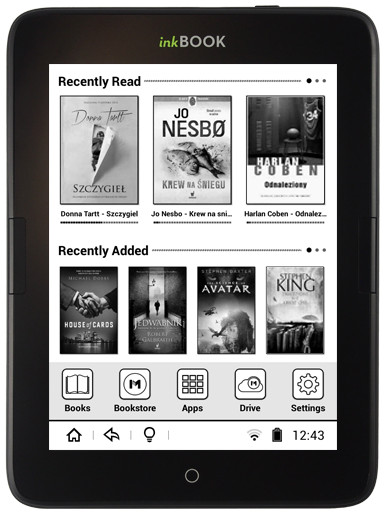 Today Arta Tech has announced the release of a new Android-based ebook reader with a flush glass screen called the inkBOOK Obsidian. It's available from Onyx-Boox.com and it sells for 145 euros (117 euros without VAT).
Despite the website's name, it's actually not an Onyx device. The inkBOOK Obsidian is a custom version of the Boyue Shine. This is the first time this newer model has become available anywhere.
The software is based on Android 4.2.2 like Boyue's other ebook readers, so the software is likely very similar to what's on the various T61 and T62 models.
The main thing that differentiates the inkBOOK Obsidian from the earlier models is a new streamlined design.
It has a flush glass screen similar to the Kindle Voyage and the new Nook GlowLight Plus. The cool thing with this model is it still has physical page-turn buttons on each side, something the other brands are lacking.
The inkBOOK Obsidian has a 6-inch E Ink Carta screen, but it's not the newer super high resolution version. It has a 1024 x 758 resolution screen (212 ppi).
Like other Android ereaders, the inkBOOK Obsidian comes with preinstalled apps for ePub and PDF files, and you can install other Android apps for additional formats, such as the Kindle app.
The device also sports a frontlight and a microSD card slot. It is an 8GB model, with probably around 5GB usable.
Arta Tech is based in Poland but they sell their ereaders worldwide. I'll keep an eye out for the new inkBOOK Obsidian on Amazon, as it may turn up for sale there too down the line.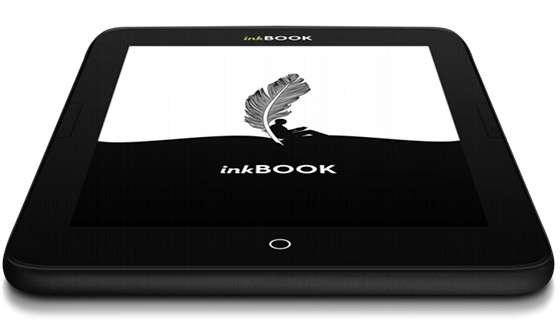 Tech Specs for inkBOOK Obsidian
6-inch E Ink Carta display.
1024 x 758 pixel resolution (212 dpi).
Flat glass screen with capacitive touch.
Frontlight.
Android 4.2.2 operating system.
Dual-Core Cortex A9 1.0GHz processor.
8 GB internal storage.
512 MB RAM.
MicroSD card slot for cards up to 32GB.
Physical page-turn buttons.
Wi-Fi (802.11b/g/n)
Pre-installed apps: Library (Books), Internet browser, Dictionary (QuickDic), Downloads, Midiapolis Drive, Email, File manager, Images, Bookshop, Midiapolis News Reader, Midiapolis App Store, Notepad, Settings, User Manual.
Supported formats: EPUB and PDF (reflow) with Adobe DRM (ADEPT), MOBI (without DRM), TXT, FB2, HTML, RTF, CHM.
Battery: 2800mAh Li-ION Polymer.
Dimensions: 158 x 118 x 8 mm.
Weight: 196 grams.
Price: 149 euros.