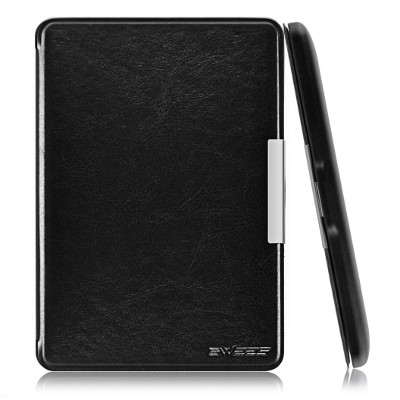 As mentioned yesterday, Amazon is taking $20 off the Kindle Paperwhite 3 and the basic Kindle through Wednesday.
Amazon is hoping that customers will add-on one of their expensive $40-$60 covers to make up for the discount, but there's no need to spend that much when you can get a good cover for under $5.
Yeah, you read that right. You can get a Kindle Paperwhite cover for only $5. $4 for the basic Kindle. That's more like it.
I don't know how long the prices will stay that low; I just happened to come across them this morning. It could be the regular price for all I know, but I doubt it because they're always changing.
The covers are Swees Ultra Slim covers. They have the auto sleep/wake feature and are made from synthetic leather.
One thing to note, the Paperwhite cover says that it only fits the 2012 and 2013 models. Obviously it fits the 2015 Paperwhite 3 too because it's the exact same size as the other two. They just haven't updated the listing yet.
Here are the links:
Kindle Paperwhite Swees Slim Cover
Kindle Swees Slim Cover
The Paperwhite cover is available in black, carbon black, gold (more like tan), and mint green. The entry-level Kindle has the option for black or carbon black.
It's definitely a good cover for under $5. I thought I got a good deal when I paid twice that much for the same cover for the Kindle Voyage.
Here's my Swees Ultra Slim cover review for a closer look.
I still have the cover and it has held up well over the past eleven months. It still looks like new, in fact.
Maybe I'm just cheap but if it looks good and it gets the job done for $5, I don't see the point in spending $60 for Amazon's Premium Leather Kindle Cover.