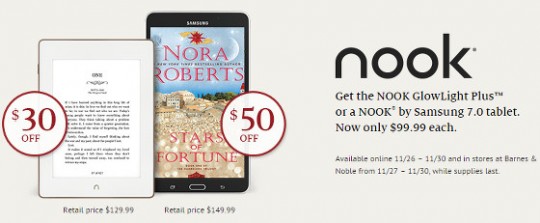 Barnes and Noble announced their Black Friday deals today. The new Nook Glowlight Plus is included in the offerings. It will be marked down to $99 from $129.
The 7-inch Samsung Galaxy Tab 4 Nook will also be on sale for $99, which is $20 off what it's currently going for online.
The sale prices are valid both in retail stores and online. The deals go live on B&N's website from November 26th through November 30th. The sale starts a day later in retails stores.
The weird thing about this Black Friday sale on Nooks is that it undercuts the current sale that B&N started this past Sunday.
B&N just marked down the Nook Glowlight Plus by $10 and the Galaxy Tab 4 by $30 (making it the same price that it sells for from other retailers) two days ago, and now they announce this different sale. Typical B&N…
So what do they do? They put up a notice saying the Nook Glowlight Plus is temporarily out of stock online. That way they can avoid a bunch of angry customers purchasing it before the sale. It doesn't seem like the best way to do business, but B&N does have a penchant for doing things a little differently.
Nonetheless, there won't be a better time to purchase the Nook Glowlight Plus if you've been considering it. $99 is a really good price for a waterproof ebook reader with a 300 ppi E Ink screen. The main negative is that it only supports ebooks from B&N and DRM free ebooks at this time. It doesn't support ebooks with Adobe DRM, so library ebooks and ebooks from other sources are out.
Check out my Nook Glowlight Plus review for more information about the device and a video demo.
Barnes and Noble will be running a number of other sales and promotions for Black Friday weekend. Here's the list of deals to expect:
Second Annual Signed Editions Offering with Over a Half-Million Books Signed by More Than 120 Acclaimed Authors: Barnes & Noble is offering customers nationwide the opportunity to find a favorite author's signature inside a beloved book, with signed copies of books from over 120 acclaimed authors. With over 500,000 books available – the largest ever offering of its kind – representing a wide variety of genres and subject matter, customers will have the opportunity to purchase these coveted editions in stores only beginning on Black Friday, November 27, and continuing throughout the holiday season, while supplies last.

Buy 1, Get 1 50% Off Over a Thousand Educational Toys & Games: Barnes & Noble has all the hottest, must-have, high-quality educational toys and games of the season perfect for kids of all ages and interests, making it an unmatched resource for gifts to help children learn and grow. This incredible buy 1, get 1 50% off offer applies to over a thousand educational toys and games in Barnes & Noble's leading selection, and is available in stores and online.

50% off Special Gift Books: Customers can enjoy a spectacular 50% off offer on a wide selection of popular gift books for readers of all ages and interests both in stores and online, including Guinness World Records 2016, George R. R. Martin's A Game of Thrones Leather-Cloth Boxed Set (Song of Ice and Fire Series), Harry Potter: The Character Vault by Jody Revenson, The Day the Crayons Came Home by Drew Daywalt, The Nightmare Before Christmas (B&N Exclusive Edition) by Tim Burton, The Chronicles of Narnia Boxed Set by C.S. Lewis, and many others.

$100 off the da Vinci Jr. 1.0 3D Printer from XYZprinting: This affordable printer is perfect for anyone from a first-time 3D designer to an aspiring inventor, and is the number one 3D printer for the home, office or classroom (K-12). Customers can purchase the da Vinci Jr. 1.0 3D Printer for the incredible value of $249.95 – a $100 discount – beginning on Black Friday through 12/24 in stores and online, while supplies last.

Buy 1, Get 1 50% off Collectible Classic Editions: This huge buy 1, get 1 50% deal on classic collectible editions, available in stores and online, includes To Kill a Mockingbird (Barnes & Noble Collectible Editions), Moby-Dick (Barnes & Noble Collectible Editions), The Star Wars Trilogy (Barnes & Noble Collectible Editions), and so much more. Exclusions apply, ask a bookseller for details.

30% off All Print Magazines: Customers can receive 30% off all print magazines in stores only, one day only, on Black Friday, November 27. This fantastic one-day offer applies to thousands of titles, including Bon Appetit, Glamour, HGTV, National Geographic, and so many others.

Buy 1, Get 1 50% off Godiva Gold Ballotins: This irresistible buy 1, get 1 50% off offer on signature Godiva Gold Ballotins, available in stores only, is perfect for gift-giving.

Gift Cards: Customers who shop at Barnes & Noble during Black Friday Weekend can take advantage of Barnes & Noble's best Gift Card offer ever: a free $10 Reward Card with the purchase of $50 or more of Gift Cards. The $10 Reward Card can be redeemed 12/26/15 through 3/31/16. And, as always, Members receive an extra 10% off almost everything in stores every day.