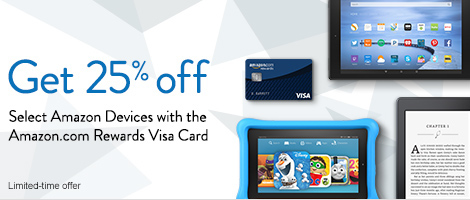 Today Amazon started offering some new deals on Fire HD and HDX tablets, with $20-$55 off select models.
You can get a Fire HD 6 for $79, a Fire HD 8 for $129, and a Fire HD 10 for $179. Last year's Fire HD 7 is marked down to $99 as well.
They have another deal for Amazon Visa Card holders where you can get 25% off the prices of the Fire HD 6, the Fire HD 6 Kids Edition, Fire HD 8, Fire HD 10, Kindle and Kindle Paperwhite.
Some people are having success getting these deals to overlap for some crazy low prices (Fire HD 6 for $59 and Fire HD 8 for $98, Fire HD 10 for $135) but it doesn't always seem to work.
When I try it sometimes it shows the double discounted price and other times it gives an error for the code and shows the regular sale price. Even when it does show the 25% discount it says, "The promotional code you entered cannot be applied to your purchase", so something is off with Amazon's system either way…
The 25% off deal requires an Amazon Rewards Visa Card (the ones they advertised on their website all the time). Here's the page with more details about the offer.
You have to use code KDL25ARC during checkout to get the 25% off discount.
The Rewards card deal is advertised as running through December 11th.
Fire Tablet Sale Links
These are the sale prices that started today, not the Rewards Card deals, which takes 25% off select models.
Fire HD 6 – $79 ($20 off)
Fire HD 8 – $129 ($20 off)
Fire HD 10 – $179 ($50 off)
Fire HD 7 (last year's model) – $99 ($55 off)
Fire HD 6 Kids Edition – $119 ($30 off)
Fire HDX 8.9 – $429 ($50 off)
Amazon is also showing the refurbished Fire HD 6 for tomorrow's Deal of the Day (12/7). It says 25% off, so that would make it $59 since the regular price is $79.