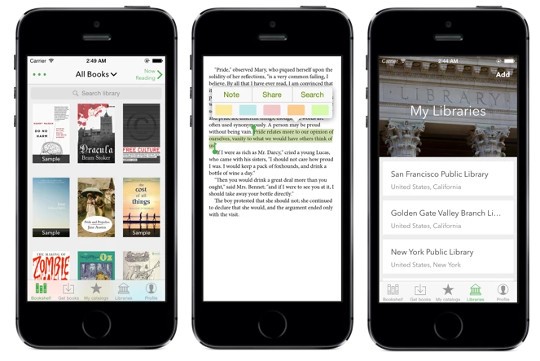 Aldiko has been one of the most popular ePub reading apps for Android, with over 27 million downloads, and now it's finally available on the iOS platform too for the iPad, iPhone and iPod touch running iOS 7.1 or later.
Aldiko has been available on Android for several years now. It was one of the early ePub reading apps to get released. Some other ePub apps have passed it by in terms of features, but Aldiko is still one of the better overall reading apps.
The iOS version of the Aldiko app offers similar features as the Android version.
The app supports ePub and PDF formats, including ebooks with Adobe DRM. You can import book catalogs and add websites to download ebooks from, and you can even link to your Dropbox account.
One notable advantage with Aldiko over some other apps is the integration with public libraries and Overdrive. You can add your libraries to the app to easily borrow and return ebooks for free from libraries that work with Overdrive.
Aldiko also an integrated ebook source, Feedbooks, for a wide selection of free titles and some originals too.
Aldiko offers all the standard features you'd expect from an ebook app, like adjustable font sizes and font types, there are different font and background colors, including night mode, you can adjust margins and text alignment, create bookmarks, add highlights and notes, lookup words in the dictionary, etc.