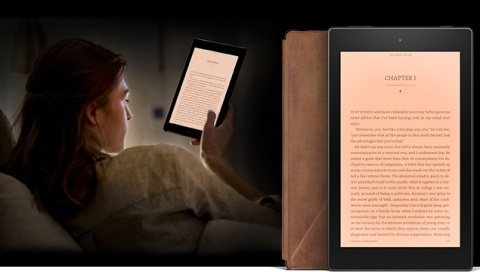 Last month Amazon announced the release of the Fire HD 8 Reader's Edition Tablet, their most misleading product release yet.
On the surface it sounds like a really good idea, but then upon closer examination all it is is a marketing ploy for a Fire HD 8 bundle with an overpriced cover and a year-long subscription to Kindle Unlimited, Amazon's ebook subscription service.
There's nothing about the tablet itself that makes it special as a reading tablet.
It still bugs the heck out of me to see Amazon calling it the "Best Tablet for Reading".
Because of the lower resolution screen, the Fire HD 8 isn't even Amazon's best tablet for ereading. Not to mention the fact that battery life is just average, and you can't read outside anywhere near bright sunlight, like any other tablet with an LCD screen.
The Reader's Edition tablet turned out to be all puff and no substance. There's not one single unique thing about it from a reading perspective.
Wouldn't it be cool if Amazon released a real Reader's Edition tablet?
One with a screen not negatively impacted by bright light, and with super long battery life so you don't need to recharge every few hours.
Back in 2013, Amazon purchased a company called Liquavista that specializes in making color displays that do just that. They're sort of like E Ink screens on Kindles but with full color.
Unfortunately the acquisition has yet to yield any results. In fact we haven't even seen anything demoed from Liquavista in years. All we've seen from them is this pointless video saying why Amazon is great (of course they think that; Amazon is paying them to hang out in a huge office and go out to lunch and have fun without ever having to actually produce anything). The video gives no insight into the display technology whatsoever and fails to mention any goals of future development.
Hopefully Amazon is just being super secretive like usual, and the folks at Liquavista really are working on a cool new display technology that's soon to get released, but so far there's been no evidence to support that. Liquavista was founded way back 2006. They've got to release a product at some point, you'd think (it always amazes me how companies like Liquavista manage to stay in business for a decade without ever actually producing anything).
If Liquavista ever does come up with something usable, a real Reader's Edition tablet could be a likely approach. One with an electrowetting display would sure be a lot cooler than a regular Fire HD 8 with a misleading name…