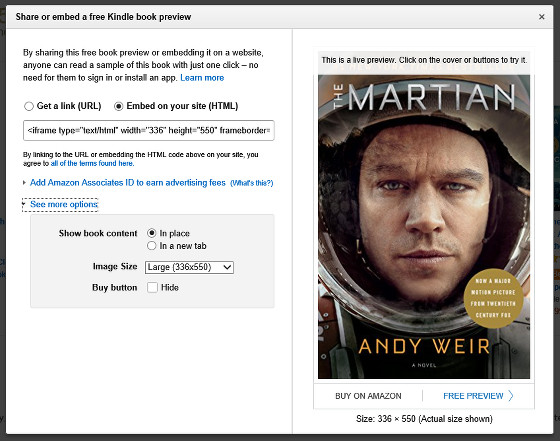 Amazon has started rolling out a new feature this week called Kindle instant previews that lets anyone embed full samples of books directly on third-party websites and apps.
Kindle instant previews are similar to the "Look Inside" feature that Amazon offers on their website that lets customers preview samples of most books using a web browser before buying.
An example of the new preview widget is embedded at the bottom of this post.
The way it works is you can choose the embed option among the sharing buttons below the buy boxes on product pages for books at Amazon (here's a more detailed description of how Kindle instant book previews work).
Anyone with access to a blog, website, forum, or even an app can embed these Kindle book previews for instant access to content.
The book preview widgets are available in custom sizes, and there are a couple of settings, like the option to hide the buy button, open the preview in a new window, and add an Amazon affiliate ID.
Below is an example of the new book preview feature in action. Note the option to go full screen, the sample percentage indicator, and the option to read using a Kindle app. If you click on the widget you can increase and decrease font size, and you can quickly turn pages by hovering the mouse over the widget and using the mouse wheel.
The Martian Sample
via: GeekWire