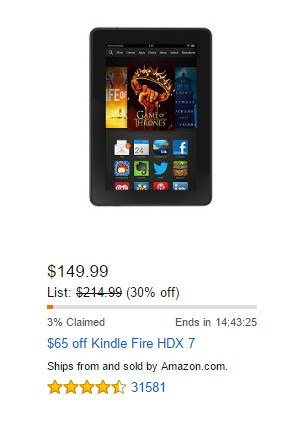 For at least the second time in the past couple of weeks Amazon has their 7-inch Kindle Fire HDX marked down to $149 for one of their Lightning Deals.
The regular retail price is $215 so that's $65 off the regular price, but it's not quite as good of a deal as it may seem.
That's the price that it sold for over two years ago when it first came out. It's usually priced at $199 and often goes on sale for $179, so it's more like $30 off.
You have to ask the question is a two year old tablet worth that much?
There's really only one reason to get the HDX over one of the newer tablets. With 323 ppi, it has a much higher resolution screen than Amazon's newer tablets, which is especially beneficial when it comes to reading.
So if you primarily want a reading-centric tablet, the Kindle Fire HDX could actually be a better option than the newer 5th gen models. It's the same price as the Fire HD 8, which has a slightly larger screen and a more streamlined design, but with only 189 ppi and a few hours less of battery life.
The biggest problem with getting an HDX is the older operating system that won't likely get any more updates. It's more limited than the new Fire OS 5, and lacks some of the cool new features. If not for the better screen, you'd be better of just getting three $49 Fire tablets for the same price.