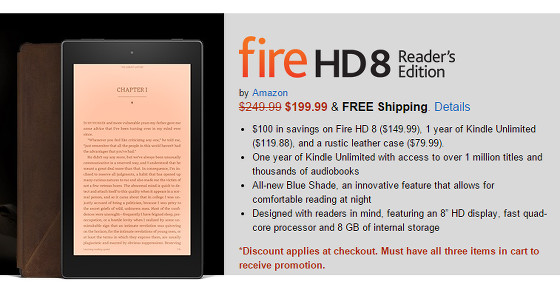 I don't understand Amazon sometimes. I happened to notice that they have their new Fire HD 8 Reader's Edition bundle on sale for $199, which is $50 off the regular price. Yet Amazon doesn't advertise this deal anywhere on their dedicated deals pages. Whatever…
It's a limited time offer that doesn't say anywhere when it expires. So for the time being the Fire HD 8 Reader's Edition is on sale for $199.
For that price it's actually a pretty good deal now. The base Fire HD 8 sells for $149, so for an extra $50 you get a premium leather cover and 1 year of Kindle Unlimited.
When purchased separately the cover sells for $79 and a year of Kindle Unlimited costs $119, so if you're into those things the bundle package is clearly the better way to go.
When Amazon announced the release of the Fire HD 8 Reader's Edition tablet last month, I was very critical of it because it's really just a glorified Fire HD 8 bundle package with a misleading name.
Calling it a Reader's Edition tablet is nothing more than marketing nonsense because it's no different than a regular Fire HD 8.
But now that they've got the price down to a reasonable level, it's a pretty good bundle package. It's funny how much price has an impact on the overall perception of a product. Like with the $49 Fire tablet, people are a lot less likely to complain about stuff when they feel they are getting a good deal on it and it's not overpriced.