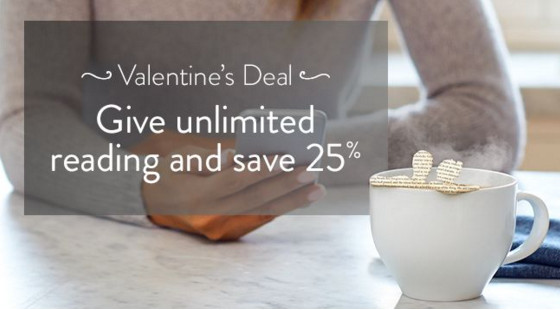 Amazon has a bunch of ongoing Kindle-related deals this week for Valentine's Day.
In addition to the sales on Kindle ereaders and Fire tablets mentioned earlier in the week, Amazon also has a Valentine's Deal for Kindle Unlimited that takes 25% off.
Kindle Unlimited is Amazon's ebook subscription service where customers pay a monthly subscription fee (normally $9.99 per month) to get access to all the Kindle books available through KU, which currently includes over 1.2 million ebooks.
Most big publishers don't offer their books in the program however, so it's always advisable to search Kindle Unlimited titles before subscribing.
Kindle Unlimited also includes nearly 10,000 audiobooks that are part of the package as well.
The deal applies to pre-paid Kindle Unlimited subscriptions with a term of 6-24 months. The sale prices are below:
6 Months: $59.94 – Sale price $44.95
12 Months: $119.88 – Sale price $89.91
24 Months: $239.76 – Sale price $179.82
The discount runs through Valentine's Day, February 14th. Here's the page with the terms and conditions for the fine print.