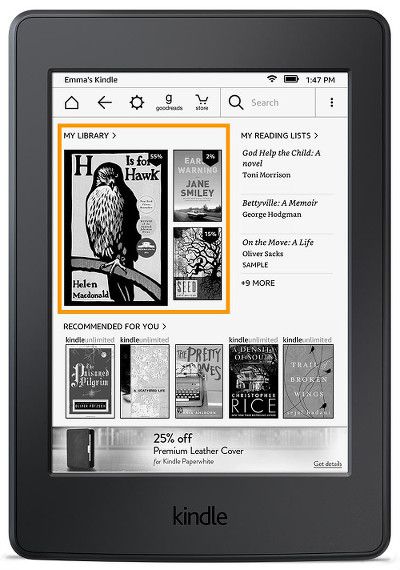 The new homescreen layout that was introduced with the latest Kindle software update sucks, and it sucks bad. It's the worst homescreen I have ever seen on any device ever. Sorry to be blunt folks, but that's how I feel.
I'm surprised there aren't more people complaining about how bad the new homescreen layout is. All it is is one big advertisement that unsubtly tries to sell you more stuff from Amazon every single time you look at it.
You get one little corner that shows the content that's actually on your Kindle, three measly titles that occupy about 1/3 of the homescreen.
The remaining 2/3 of the homescreen isn't "your" homescreen at all. It's Amazon's big giant ad designed to get you to buy more stuff from Amazon.
Could you imagine if 2/3 of the homescreen on your tablet or computer was dedicated to selling you products from Microsoft or Apple? No one would stand for that for 2 seconds, but somehow Amazon can get away with it on a Kindle. It makes no logical sense. People are becoming way too accepting of ads on Kindles.
The pure shamelessness of it all is sickening. If I want to buy a new book I'll decide what I want to choose on my own time; I don't need Amazon or Goodreads telling me what to read and when to read it.
What really galls me is Amazon calls it a "personalized" homescreen. To me that means being able to customize your homescreen to your personal preference. But what it really means is a homescreen with your personalized shopping habits taking up more space than on-device content.
The homescreen is now more of an advertisement than it is an actual functional homescreen. It shows three books that you actually own and like eight that you don't. It's ridiculous.
Luckily the new homescreen layout can be turned off from the settings menu, but the option is buried like five layers deep.
To turn off the new adscreen homescreen layout, go to Settings > Device Options > Personalize Your Kindle > Advanced Options > Home screen View > Off.
You can still switch from cover view to list view as well but the location has changed. The option to use list view is now under the All Items sorting tab on the homescreen.