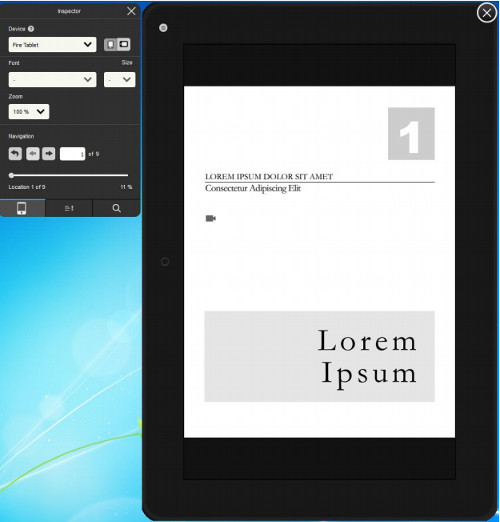 Amazon recently released a beta version of Kindle Previewer 3, a free desktop application for Windows and Mac computers that allows authors, publishers, and ebook creators to preview how their ebooks will look when using the new enhanced typesetting engine on Kindle ereaders and Kindle apps.
The previewer supports importing a number of ebook formats, including kpf,
mobi, azw, epub, htm, html, xhtml, opf, prc, azw3, and azw8.
The beta version of Kindle Previewer simulates how the books will appear on Fire HD and HDX tablets as well as the iPad using the Kindle for iOS app.
Up until now Amazon's enhanced typesetting and new KFX format has been in large part a mystery because Amazon hasn't allowed anyone to see how it works or what exactly the purpose is of the new KFX format.
Kindle Previewer 3 still doesn't answer many questions, and it does not actually produce a KFX formatted ebook, it just lets you preview how the book will look. Instead the previewer produces a hidden file for the book in KDF format.
It would be nice if the previewer could output KFX files for Kindle users to sideload ebooks with the new enhanced formatting, but so far that isn't the case. Currently it's just for previewing only and to see if books are compatible with the new rendering engine. It creates a Mobi file that you can sideload, but of course it doesn't have enhanced typesetting enabled.