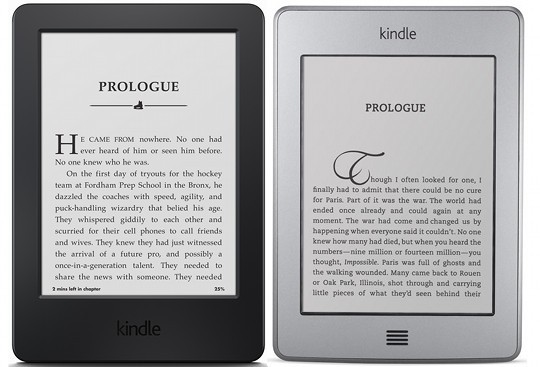 A reader sent in an email over the weekend commenting about how they were at a retail store and noticed some ereaders on display, and they thought the build quality of current devices is vastly inferior to what was available a few years ago.
In some ways I have to agree with that sentiment. The overall quality of the lower-end ereaders has gotten worse over the past few years, or has flatlined at best.
The entry-level Kindle Touch is a good example of this.
It has a blocky plastic design that feels and looks like a cheap child's toy. Not only that but it's actually a downgrade from the Kindle Touch that was released 3 years earlier in terms of overall features.
Sure, the page turns are slightly faster now and the software is more developed, but the build quality of the $79 Kindle is clearly inferior in every single way to the original Kindle Touch that was released way back in 2011.
The same kind of things can be said about the Kobo Touch 2.0. It's actually a downgrade from the original Kobo Touch as well, and the build quality has gotten noticeably cheaper.
Think back a few years ago when Sony was still in the ereader game. Their older models had such nice build quality with the aluminum frames. Now everything is just cheap plastic.
There are some exceptions to the noticeable decline in ereader quality. The Kindle Voyage and Nook GlowLight Plus have definitely taken a step forward over previous models in terms of hardware quality.
Adding waterproofing is nice advancement too, like on the Kobo Aura H2O, but in a lot of ways ereaders have gotten cheaper and more generic.
Sure, there's been some improvements in quality over the past few years, but there's also been a lot of stagnation and decline as well.