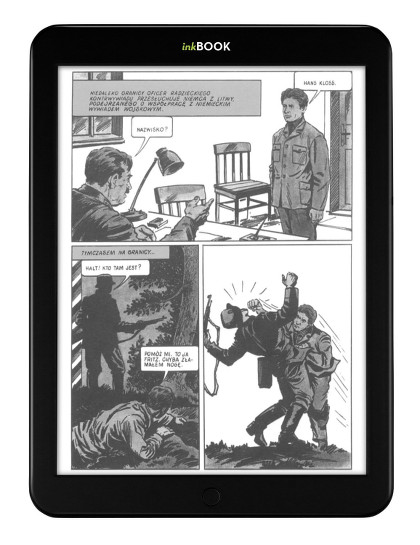 It looks like Arta Tech has a new website and a new 8-inch inkBook ereader that's available in Europe.
The device is called the inkBook 8. It's an Android-based ereader that comes with a frontlight, WiFi, 8GB of internal storage, a microSD card, a capacitive touchscreen, a 1GHz dual-core processor and 512MB of RAM.
The inkBook 8 has an 8-inch E Ink Pearl screen with a resolution of 1024 x 768. That equates to 160 ppi.
A few months ago I posted an inkBook Obsidian Review for the 6-inch model.
It has some upgrades over the inkBook 8, including a higher resolution display, a flush glass screen, physical page-turn buttons, and a 50% lower price tag (£99).
The inkBook 8 has some advantages of its own too, like the 2-inch larger display and it supports audio via a 3.5mm headphone jack.
Currently the inkBook 8 is selling from Amazon UK for £150 and from InkBook.eu for 179 € (145 € excluding VAT).
Unfortunately it's not sold from anywhere in the US but the 8-inch Icarus Illumina XL sells from Amazon for $199.
Update: It's now available in the US too from Amazon for $170.
The inkBook 8 and Icarus Illumina XL are actually the exact same device made by the same company. The branding is the only difference, along with subtle changes in the software to reflect that.
InkBook 8 Specs
8-inch E Ink Pearl display.
1024 x 768 pixel resolution (160 dpi).
Capacitive touchscreen.
Frontlight.
Android 4.2.2 operating system.
1 GHz Dual-Core Cortex A9 processor.
8GB storage space.
512MB RAM.
Wi-Fi 802.11 b/g/n.
MicroSD card slot for cards up to 32GB.
Micro USB port.
3.5 mm headphone jack.
Battery: 2800 mAh Li-ION Polymer.
Supported formats: EPUB and PDF (reflow) with Adobe DRM (ADEPT), MOBI (without DRM), TXT, FB2, HTML, RTF, CHM.
Pre-installed apps: Library (Books), Internet browser, Dictionary (QuickDic), Downloads, Midiapolis Drive, Email, File manager, Images, Bookshop, Midiapolis News Reader, Midiapolis App Store.
Dimensions: 198 x 144 x 8.4 mm.
Weight: 258 grams.
Price: £150 at Amazon UK.