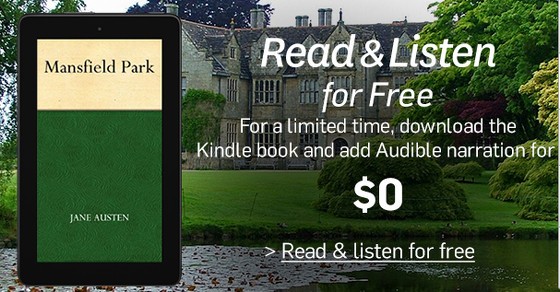 This morning the folks at Amazon updated the free ebook and audiobook pair for April. Mansfield Park by Jane Austen is this month's freebie.
Normally the audiobook version of Mansfield Park sells for $14.95 so being able to get it for free is a nice perk.
The professionally narrated audiobook has a runtime of 14 hours and 30 minutes and it's the unabridged Tantor Audio version.
Like always, you technically have to get the free ebook before the Audible audiobook becomes free, but they make it easy by adding a checkbox below the buy button for the Kindle ebook to automatically add the audiobook to the purchase for $0.00.
Amazon has been giving away a free audiobook of a classic title each month since they introduced their Whispersync for Voice feature that syncs the last page read on Kindle ebooks and Audible audiobooks so that you can easily switch back and forth between the two.
You don't need to own a Kindle; you just need an app, either a Kindle app or an Audible app to listen to the audiobook. Here's more information about how to use Amazon's Whispersync for Voice and immersion reading features.
Here's the description of Mansfield Park:
Fanny Price, a young girl from a poor family, is being raised by her rich uncle and aunt, Sir Thomas and Lady Bertram, at Mansfield Park. She grows up with her four cousins, Tom Bertram, Edmund Bertram, Maria Bertram and Julia, but is always treated as inferior to them; only Edmund Bertram shows her real kindness. He is also the most virtuous of the siblings: Maria and Julia are vain and spoiled, while Tom is an irresponsible gambler.