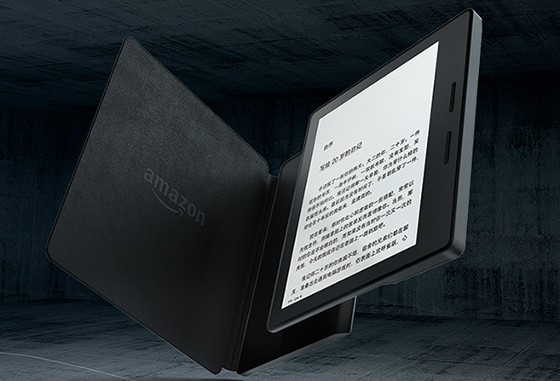 Amazon is getting set to announce a new Kindle this week called the Kindle Oasis. Details already leaked early on its name, and now a bunch of pictures and some additional specs have turned up as well.
The Kindle Oasis has a new asymmetrical, tapered design with page buttons on one side of the screen. It comes equipped with an accelerator so that you can flip it 180 degrees to use the page buttons on either side.
The specs are in Chinese so it's hard to know for certain but it certainly appears to have a 6-inch E Ink screen with 300 ppi.
The Kindle Oasis has a tapered design that is thicker where the buttons are located and thinner on the other side. It goes from 8.5mm down to 3.4mm.
By comparison the Kindle Voyage is 7.6mm thick. The number 131 on one of the images probably indicates the weight in grams. The Voyage weighs 180 grams.
The details were leaked on this Chinese website called TMall. Once again someone over at MobileRead noticed it.
The page will probably get taken down unless Amazon officially announces the Kindle Oasis later today.
Here are more pics in case they get taken down.