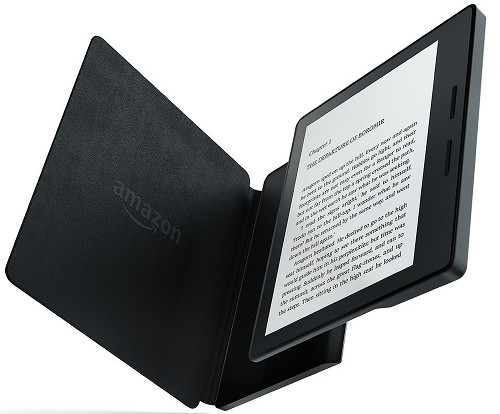 The Kindle Oasis, Amazon's 8th generation Kindle, was officially released on April 27th, 2016.
For the most part the initial release date was only for those that pre-ordered early. Most orders shipped after that date, and now a week and a half later some configurations of the Kindle Oasis are four months away from shipping.
However, not all models are on backorder. Some configurations of the Kindle Oasis are in stock now and are available for immediate shipment.
But the catch is they are the most expensive models, the ones with 3G wireless. They sell for $359 and $379, so it's pretty obvious why they're the only ones not sold out.
All together there are twelve different versions of the Kindle Oasis. There are three color choices for the cover, and each has the option for ads or no ads, plus there are the 3G wireless versions.
One thing to note is there's no need to wait for a non-ad model if the Special Offers model ships first. All you have to do is login to the Manage Your Content and Devices page at Amazon and choose to unsubscribe from Special Offers, which costs $20, the same as the price difference.
Below is a list of updated shipping dates for the Kindle Oasis as of May 7th from Amazon US (international orders have different dates). Keep in mind that Amazon usually overestimates how long it will take so that customers are happy when it arrives early (a very clever tactic).
Updated Kindle Oasis Shipping Dates
Kindle Oasis with 3G, Black Cover – In Stock
Kindle Oasis with 3G and Ads, Black Cover – In Stock
Kindle Oasis with 3G, Merlot Cover – Backordered for 2 to 4 months
Kindle Oasis with 3G and Ads, Merlot Cover – Shipping July 9th
Kindle Oasis with 3G, Walnut Cover – Shipping July 27th
Kindle Oasis with 3G and Ads, Walnut Cover – Shipping July 7th
Wi-Fi Models
Kindle Oasis with WiFi and Ads, Black Cover – Shipping June 1st
Kindle Oasis with WiFi, Black Cover – Shipping June 21st
Kindle Oasis with WiFi and Ads, Merlot Cover – Backordered for 2 to 4 months
Kindle Oasis with WiFi, Merlot Cover – Shipping September 3rd
Kindle Oasis with WiFi and Ads, Walnut Cover – Backordered for 2 to 4 months
Kindle Oasis with WiFi, Walnut Cover – Shipping June 2nd