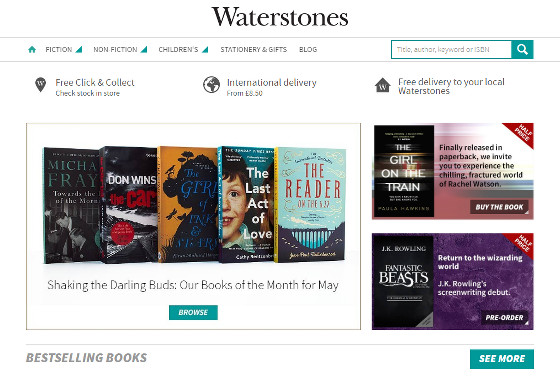 Another ebook store is closing in the UK, the second one this year after Barnes and Noble closed the UK branch of their Nook Store back in March.
Waterstones has decided to discontinue offering ePub ebooks and MP3 audiobooks from their website effective immediately. They've been selling ebooks for several years so it's unfortunate to see them go.
Once again Kobo is going to be the beneficiary of customer accounts, as they've been for numerous other ebook store closures in the past.
It happens so frequently that Kobo has a dedicated help page with generalized instructions about transferring ebooks from a closing company to Kobo.
Waterstones will be sending out emails to customers starting June 14th, 2016 with instructions on how to transfer accounts to Kobo in order to retain most of their ebook collection (a few books are bound not to make the transfer, as Kobo is unlikely to have the rights to every single title that Waterstones has sold over the past 5+ years).
Customers can download their purchased ebooks from Waterstones from now until Monday, June 13th. It's a good idea to get backups while you can, or if you don't want to transfer your account to Kobo. If you have any audiobooks from Waterstones make sure to download them before June 14th because they aren't getting transferred to another company.
Waterstones gift cards and loyalty points cannot be transfered to Kobo.
Kobo's press release states that Waterstones will continue to offer ebooks as a Kobo affiliate, but sales will be directed to Kobo's website.
Here's the link to the help page at Waterstones with more information about the store closure.