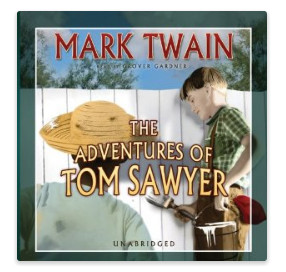 Amazon has updated their free Whispersync audiobook and ebook combo for June.
This month's free classic title is The Adventures of Tom Sawyer by Mark Twain.
It's the first book in the Tom Sawyer & Huckleberry Finn Series.
To get the free audiobook you have to check the box below the buy button when getting the free ebook because technically they are tied together for this freebie offer to work.
If you miss the option or already have that particular book on your account then you can use Amazon's Matchmaker tool to find the audio companion to ebooks that you have already purchased.
The ebook copy of The Adventures of Tom Sawyer is in the public domain so it's normally free anyway, but the audiobook regularly sells for $9.95 so that's where the deal comes in.
The audiobook is professionally narrated by Grover Gardner and has a runtime of 6 hours and 54 minutes.
You don't need to own a Kindle to get the free audiobook; you just need an app, either a Kindle app or an Audible app to listen to the audiobook. Here's more information about how to use Amazon's Whispersync for Voice and immersion reading features.
Amazon has been giving away a free audiobook of a classic title each month since they introduced their Whispersync for Voice feature that syncs the last page read on Kindle ebooks and Audible audiobooks so that you can easily switch back and forth between the two.
Here's the description of The Adventures of Tom Sawyer:
This humorous and nostalgic novel takes the listener back to the carefree days of boyhood in Hannibal, Missouri, where Mark Twain grew up. Just what did boys do in a small Midwestern town during the mid-1800s, a time when there were no televisions, no arcades, and no videos? They whitewashed fences, floated down rivers, traded marbles, formed secret societies, smoked pipes, and, on occasion, managed to attend their own funerals. Yes, they may have been a bit mischievous, but as Aunt Polly said of Tom when she believed him to be dead, "He was the best-hearted boy that ever was." Aunt Polly's sentiments reveal one of the cardinal tenets of Twain's philosophy: In this deceitful and infirm world, innocence can be found only in the heart of a boy.