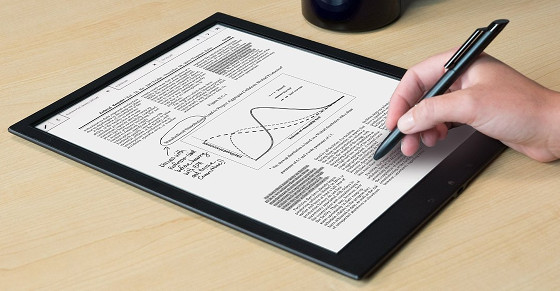 Funny timing. Just last week I posted an article about how the 13.3-inch Sony DPT-S1 is still a popular choice even with newer less expensive options available.
Now this week the Sony DPT-S1 has turned up on sale at Amazon and B&H.com for $699. That's $100 less that it was selling for last week, and about half the price that it was selling for a couple of years ago before it was widely available in the US.
When Sony first started selling the DPT-S1 in the US, only a few organizations sold it and they were only allowed to sell it to certain kinds of business professionals, so the price was driven up on websites like Amazon and eBay.
When it first arrived in the US it officially sold for $1100.
Eventually Sony dropped the price down to $999, then about six months later the priced dropped even further down to $799, where it has remained steady for the past year.
This is the first time that they've lowered the price to $699.
It's unclear how long the sale will last on Sony's specialized E Ink PDF reader, or if it's a new lower price. Either way it looks like having more competition has the added benefit of bringing the price down.
Too bad Sony hasn't shown much interest in continuing to develop the product. It was first released in Japan in late 2013, and so far there have been no signs of a potential 2nd generation model.