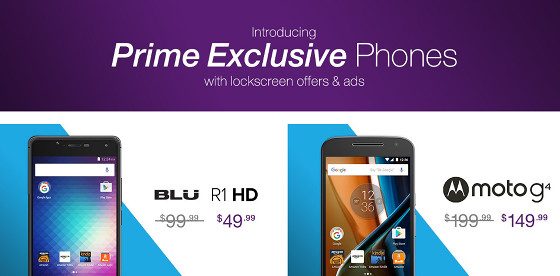 Today Amazon announced the upcoming release of specialized versions of new unlocked Android smartphones with discounted pricing exclusively for Amazon Prime members. The Fire phone didn't pan out so they came up with a new idea to latch onto the smartphone market.
The price for Prime members is up to 50% off the regular price, like the BLU R1 HD for $49 (it's $99 for non-Prime members).
The other phone deal they are currently offering is for the new 4th gen Moto G. Prime members can pre-order one for $149 instead the regular price of $199.
The discount comes in the form of an Amazon.com gift card credit.
Plus there's a catch: the special Prime member phones come with lockscreen ads to help offset the discounted price, much like the Special Offers versions of Kindle ereaders and Fire tablets.
With Kindles the ads cut $20 off the overall price and with Fire tablets it takes $15 off the price, so these phones at $50 off with ads is quite a big difference.
The phones are unlocked so that users can choose which carrier they want to use.
Both phones are good options for people that like reading ebooks on smartphones while on the go because both have large high-resolution screens. The BLU R1 HD has a 5-inch screen with 293 ppi and the Moto G has a 5.5-inch screen with 401 ppi.