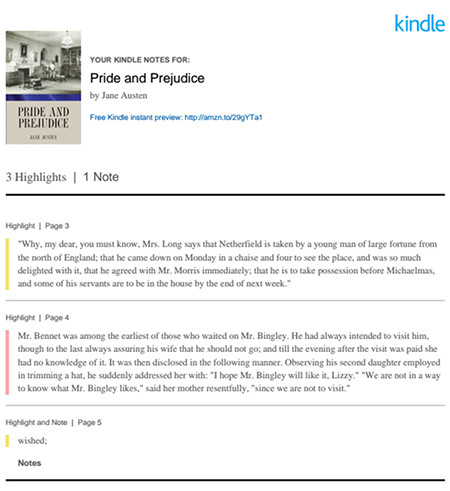 When Amazon announced the release of the new Kindle for 2016 a couple weeks ago, one of the new features they mentioned in the press release that didn't get much attention is the ability to export notes to email.
In fact the export notes option is already enabled on Kindle ereaders. I don't remember it being part of the last 5.8.1 update; perhaps they are rolling it out with the new Page Flip feature because that's when I first noticed it showing up.
There are already a number of ways to export Kindle notes and highlights, but this new email option is a lot more convenient because it can be done directly from the Kindle itself.
The way it works is you get an email with a PDF copy of your notes and highlights, plus a CSV file so you can edit and reformat the notes if you want to.
To send the notes email, just open a book on your Kindle and hit the settings menu button to access the Notes list. From there you can hit the export notes button at the bottom.
This is a handy feature to have if you like reviewing the notes and highlights you've added to your Kindle books. It's a definite step up from the previous method of having to deal with the Kindle's awkwardly-formatted My Clippings file.