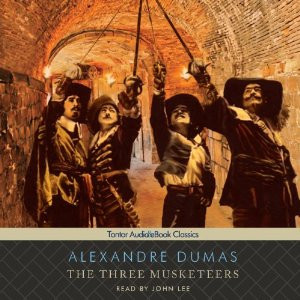 Once again it's time for Amazon to change up their free audiobook offering now that July is in full swing.
This month's free classic is a repeat so you may already have it if you make a habit of getting Amazon and Audible's free audiobook each month.
If it's not already in your collection, you can get The Three Musketeers by Alexandre Dumas for free through July.
The ebook is normally free anyway but the audiobook is a pricey $19.95 so being able to get it for free is a pretty good score.
Just make sure to check the box below the buy button for the Kindle ebook to automatically add the audiobook to your account for free.
If you miss the option or already have that particular book on your account then you can use Amazon's Matchmaker tool to find the audio companion to ebooks that you have already purchased.
The Audible audiobook is professionally narrated by John Lee and it's a long one at 23 hours and 38 minutes.
You don't need to own a Kindle to get the free audiobook; you just need an app, either a Kindle app or an Audible app to listen to the audiobook. Here's more information about how to use Amazon's Whispersync for Voice and immersion reading features.
Amazon has been giving away a free audiobook of a classic title each month since they introduced their Whispersync for Voice feature that syncs the last page read on Kindle ebooks and Audible audiobooks so that you can easily switch back and forth between the two.
Here's the description of The Three Musketeers:
Mixing a bit of seventeenth-century French history with a great deal of invention, Alexandre Dumas tells the tale of young D'Artagnan and his musketeer comrades, Porthos, Athos, and Aramis. Together they fight to foil the schemes of the brilliant, dangerous Cardinal Richelieu, who pretends to support the king while plotting to advance his own power. Bursting with swirling swordplay, swooning romance, and unforgettable figures—including the seductively beautiful but deadly femme fatale, Milady, and D'Artagnan's equally beautiful love, Madame Bonacieux—The Three Musketeers continues, after a century and a half of continuous publication, to define the genre of swashbuckling romance and historical adventure.