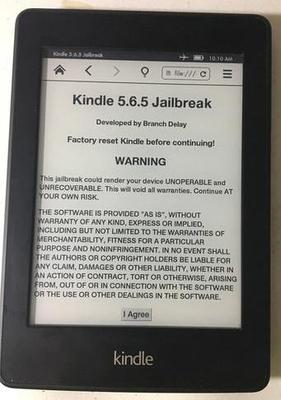 There was a brief window when the 7th gen line of Kindles could be jailbroken, but it didn't last for long before Amazon released a software update closing the hole, and for a long time the only way to root was to take apart the Kindle.
Now there's a new jailbreaking method for Kindles that makes use of a factory firmware downgrade loophole.
The new jailbreak works with the Kindle Paperwhite 2 and 3, the Kindle Voyage, and Kindle Touch 2 (the one that was just replaced by the new Kindle).
Once you downgrade the software to an earlier version on your Kindle, you can easily install the jailbreak and then update back to the current 5.8.1 Kindle software.
The newer software cannot be easily jailbroken so that's why you have to downgrade first.
So far the Kindle Oasis isn't included in the jailbreaking fun, or the new Kindle, but people at MobileRead are working on a solution. The factory firmware for those two devices is the newer kind so that could be a problem.
Head on over to MobileRead for all the information about the new jailbreaking method. There's also a handy step-by-step tutorial outlining the process from beginning to end and it all looks fairly simple.
Kindle Software Jailbreak Tools