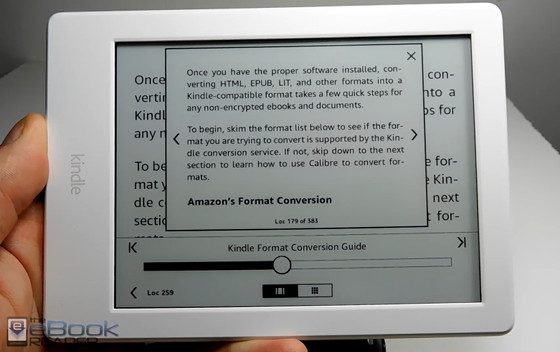 The new entry-level $79 Kindle for 2016 was officially released yesterday.
It has an updated design and it adds Bluetooth support for the VoiceView and text-to-speech accessibility features, but for the most part it isn't much different than the previous entry-level Kindle.
The new model has more RAM so that it can run the VoiceView software.
But it still has the same screen, the same amount of storage space, the same processor, and the same reading features as the previous model.
In fact all the current Kindles have the same software so there is no learning curve when it comes to the new Kindle—that's why I already uploaded a video review showing it in action.
I also uploaded a comparison review between the new Kindle and the Kindle Paperwhite 3.
I'll embed that video in a separate article tomorrow with an outline of the similarities and differences between the two, but you can watch the video on YouTube if you'd rather see it now.
I like the updated design on the new Kindle. The corners are more rounded and it's not as blocky as before. It's also a bit smaller and lighter. I'll post a full written review of it next week.
Video Review of New 2016 Kindle in White