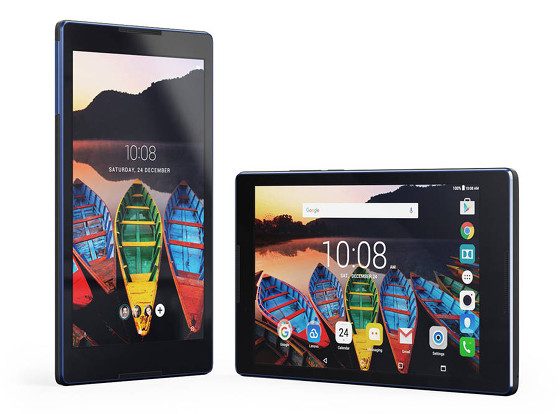 Lenovo has started to release their new lineup of Tab3 Android tablets for 2016. Among them is the Tab3 8.
It's only $109, $10 more than the 7-inch model, so it's likely to be a popular option in the budget category.
There aren't many 8-inch tablets available in the $100 price range, especially not with Android 6.0 and respectable specs from a name brand.
So far only a couple of places appear to be selling the Lenovo Tab3 8, namely Walmart and Lenovo's website.
One nice thing about the Lenovo Tab3 8 is that it comes with 16GB of internal storage space instead of the usual 8GB on most budget models. Plus it has a microSD card slot for cards up to 64GB.
Other specs included a 1.3GHz quad-core MediaTek processor, 1GB of RAM, it has a 5MP rear camera and a 2MP front camera, plus Bluetooth 4.0, WiFi, GPS, a 3.5mm headphone jack, and FM radio. The weight is listed at 329 grams and it measures 125 x 8.9 x 210 mm.
Battery life is rated at up to 8-9 hours (it says both on their website so they can't seem to decide which) with a 4290 mAh battery.
The Tab3 8 also has dual front-facing speakers with Dolby Atmos support so the sound quality should be at least adequate.
The 8-inch IPS screen has a resolution of 1280 x 800. Lenovo claims the adaptive display tech on the Tab3 8 can help prevent eye strain by optimizing lighting and contrast for things like reading and watching videos. There's also a safe mode that removes all blue light from the screen.
I've been a fan of Lenovo's tablets ever since I got the Lenovo Tab 2 A10 about this time last year. I still use it every day and haven't had any problems with it (aside from the fact that I knocked it off the nightstand and cracked the screen, but I slapped on a screen protector and it still works fine). I may be looking to upgrade to the Lenovo Tab3 10 soon…