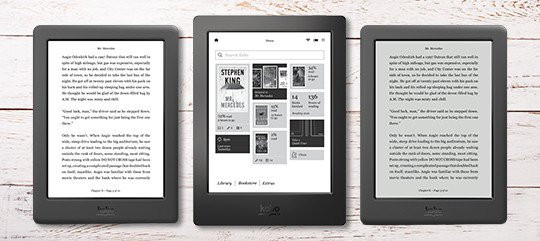 Kobo is almost certainly going to be releasing at least one new ebook reader in 2016, so let the speculations begin.
The first clue came a month ago when some paperwork turned up at the FCC revealing what appears to be a new 7.8-inch ereader and a new 6-inch E Ink ereader.
Kobo wouldn't waste their time sending potential new products through the FCC without a serious intent to distribute said devices.
Unless they unexpectedly decide to close business like Sony did a couple of years back, we can expect to see some new Kobo ereaders in 2016.
The leaked 7.8-inch ereader, dubbed the Kobo Aura One, is the most interesting E Ink ebook reader to come along in a long time.
The 7.8-inch screen size is truly unique. That would be the first E Ink ereader at that size. There are a few 8-inch devices but none with a 7.8-inch screen.
According to the leaked paperwork, the device also appears to have a smaller battery than you'd expect, so that could be an indication of some other upgrades. Perhaps that means it will be the first ereader to use the new i.MX7 processor that is more energy efficient and may not need as large of a battery.
The 6-inch device could be a new premium model. It seems unlikely that Kobo would replace the Kobo Glo HD or Kobo Touch this soon, and they are at the budget end of the spectrum, so perhaps a new premium model with some added features could makes sense, like a newer version of the original Kobo Aura.
However the new Kobo ereaders turn out, I'd expect them to be announced pretty soon in either August or September. Things could start to get interesting very quickly!