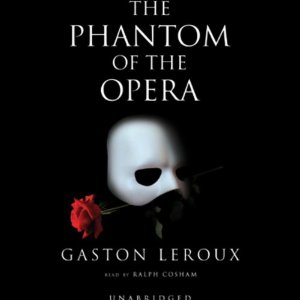 Once again Amazon and Audible are giving away The Phantom of the Opera by Gaston Leroux as their free audiobook and Kindle ebook combo for the month of September.
This is a repeat offer so you may already have it if you get these monthly Whispersync for Voice freebies regularly.
If not, you can get the free audiobook with by "purchasing" the free Kindle ebook of The Phantom of the Opera.
Just make sure to check the box below the buy button for the Kindle ebook to automatically have the audiobook added to your Audible account for free.
If you miss the option or already have that particular book on your account then you can use Amazon's Matchmaker tool to find the audio companion to ebooks that you have already purchased.
This particular audio title is narrated by Ralph Cosham and the runtime is 7 hours and 35 minutes.
The audiobook regularly sells for $9.95 without the free ebook offer so get it while you can.
The freebies are part of a monthly promotion for Amazon's Whispersync for Voice feature that syncs Kindle ebooks and Audible audiobooks together using Kindle reading apps and Fire tablets, so you won't lose your place when switching back and forth between reading the ebook and listening to the audiobook.
You don't need to own a Kindle to get the free audiobook. You just need an app, either a Kindle app or an Audible app to listen to the audiobook. Here's more information about how to use Amazon's Whispersync for Voice and immersion reading features.
From the description of The Phantom of the Opera:
Strange things are going on at the Paris Opera House: a mysterious phantom-a skeleton in dinner dress-is wreaking havoc amongst the singers and the backstage staff. When new managers take over, and dismiss the rumors of the Opera Ghost, the terror really begins. Who is the mysterious figure stalking the stage at night? How can he be everywhere at once, and enter and leave locked rooms at will? And what is his connection to the beautiful and talented young soloist, Christine? Gaston Leroux's brilliant and disturbing book is best known, perhaps, through its many stage and screen adaptations, but the original text outdoes them all in its gothic tension and its haunting horror.