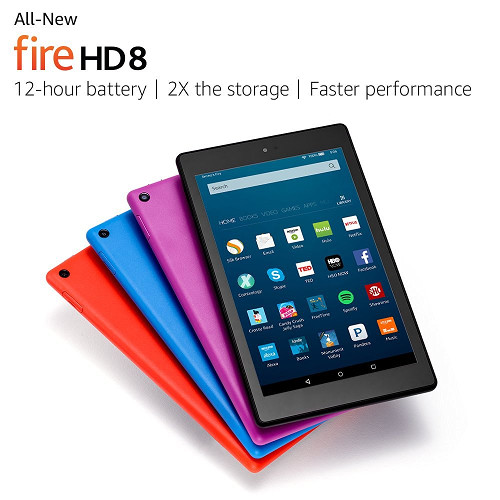 Today Amazon released a new updated version of the Fire HD 8 tablet. It comes with a number of improvements and a much lower starting price, so it's a win win.
I knew something was going on with the Fire HD 8 last month when all the various colors and model variations suddenly and mysteriously became unavailable to purchases all at once.
The new Fire HD 8 has a larger battery for up to 12 hours of battery life.
That's up from 8 hours on the last model, which from my experience was more like 6 hours so the increased battery life is definitely a plus.
The RAM has also been upgraded by 50% to 1.5GB, and the starting storage space has been bumped up from 8GB to 16GB (there's also a 32GB model).
Along with the new Fire HD 8, Amazon has announced that Alexa support is coming to the entry-level Fire, the Fire HD 10, and both generations of Fire HD 8 tablets in the coming months.
Here's more from the press release:
When connected to Wi-Fi, simply long-press the home button and ask Alexa to play your favorite song, open a game, or read you the latest audiobook—Alexa provides quick access to the entertainment you want. Plus, you can ask Alexa for the news, weather, jokes, questions, and more—Alexa provides natural-language responses, combined with on-screen information on the tablet's display. Third parties can publish Alexa skills, so you can ask Alexa to play music from services including Pandora and Spotify, and turn off the light or adjust the temperature on compatible smart home devices.
The new Fire HD 8 is available for pre-order starting today from $89. It is expected to ship on September 21st. There are 4 color choices available, black, magenta, blue, and tangerine, plus each has the option for 16GB or 32GB with special offers or without.
When I reviewed the Fire HD 8 last year I was impressed by how nice it was. It's very thin and sleek and the screen looks surprisingly nice for being on the lower end of the resolution scale with 189 ppi.
At $89 the Fire HD 8 is going to give the $49 Fire tablet a run for its money because it is a much nicer tablet for the price with better overall specs.