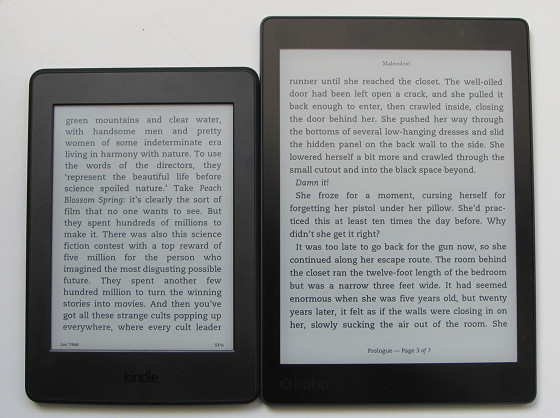 Yesterday I posted some first impressions of the Kobo Aura One, and by far the most impressive thing about it is the larger screen.
I and many others have been hoping for a larger Kindle for the past few years and it never happens. Luckily Kobo isn't afraid to change things up a bit.
I wanted to post a couple of pictures to give an idea of the size difference between a Kindle's screen and the Kobo Aura One.
All Kindles have 6-inch screens so it doesn't matter which one of the four you pick the screen is the exact same size on all of them.
Three of the four Kindles have 300 ppi E Ink Carta screens, the exception being the entry-level Kindle which has a lower resolution screen (167 ppi).
The Kobo Aura One has a 7.8-inch E Ink Carta screen that also has 300 ppi, so they're all very similar in terms of appearance and specs, but the Aura One bumps the size up another notch.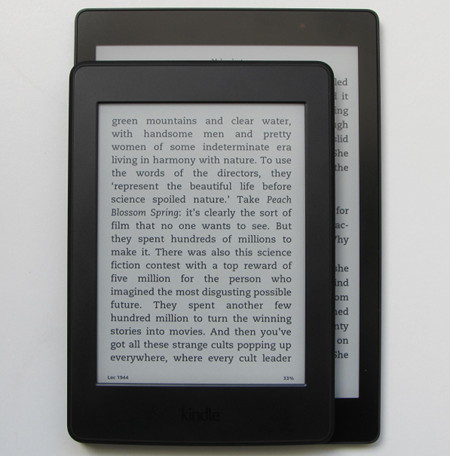 The 7.8-inch screen is a good compromise between 6-inches and the next size up, 9.7-inches, which seems a lot larger by comparison.
People have mentioned that 7.8-inches is more like a hardcover, but it's really not quite that large, and it's definitely not anywhere near that heavy.
Personally I really like the larger screen size, and the 300 ppi is a nice bonus. Hopefully more companies start following Kobo's lead on this as well. The larger size is especially good for folks with poor eyesight that need to use larger font sizes, and people that like reading stuff like comics and manga.
I'll post a video comparing the Kobo Aura One with the Kindle Paperwhite 3 next week for a closer look at the screens and software differences.