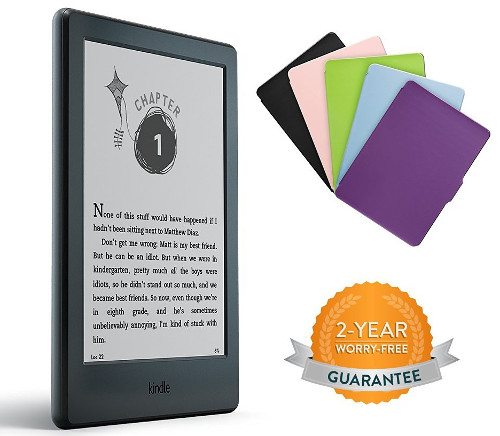 The new entry-level Kindle for 2016 is now available as part of a Kindle for Kids bundle for $99.
This new Kindle for Kids bundle is better than the last one they used to offer because now it comes with a full cover instead of just a piece that fits over the back of the device.
The Kids Kindle bundle is actually a much better deal than just buying the regular entry-level Kindle.
The regular Kindle sells for $79 with advertisements and $99 without ads.
The Kids Kindle sells for $99 and it doesn't have ads so it's essentially the exact same as the regular non-ad version.
However, the Kids version adds a cover and a 2-year worry-free warranty that covers just about everything, even accidental breaks.
So unless you want the ad-supported model, the Kids bundle is the better deal even if you aren't getting it for a kid.
Too bad they don't offer a Kindle Paperwhite kids bundle because the frontlight makes a huge difference, but at least the 2016 Kindle has all the same reading features as the more expensive models.