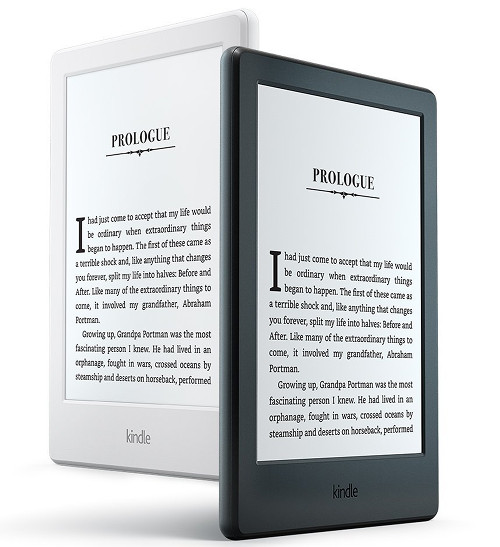 Review Date: July 2016 – Review unit purchased from Amazon
Overview
Amazon released the latest entry-level Kindle on July 7th, 2016. It's considered the 8th generation model, along with the Kindle Oasis.
The 8th gen Kindle replaces the previous entry-level $79 Kindle but not a lot has changed. The software is still the same and the hardware is 90% the same. The main upgrades are a smaller and lighter design, and the addition of Bluetooth to use the VoiceView accessibility feature wirelessly.
The new entry-level Kindle sells for $79 in the US for the ad-supported model and $99 without adds, the same price as the previous model. One new thing with the 8th gen model is that it's now available in white as well as black.
Quick Review: Kindle (8th Gen)
Pros
The entry-level Kindle offers all the exact same software and Kindle reading features as the more expensive models because all current Kindles use the same software, including the Kindle Voyage and Kindle Oasis.
New design is lighter and more comfortable to hold, and it quite frankly looks a lot better than the previous blocky Kindle.
Solid build quality for a budget device.
Bluetooth for VoiceView.
Cons
Low resolution screen with 6-year-old E Ink screen technology.
No frontlight makes the screen look dark and gray.
No page turn buttons.
Shortest battery life among Kindles.
Verdict
Last September I posted an article asking if non-frontlit ereaders should be phased out. When it comes to the Kindle I personally think that Amazon should discontinue offering a non-frontlit model. It just doesn't make sense to sell an ereader with inferior screen tech that's 6 years old. If they used a newer high-resolution Carta screen it might be a different story, but the old low-res Pearl screens aren't doing ereaders any favors.
My biggest problem with the new Kindle is how dark and gray the screen looks. Maybe it's partially because I got a white one and it highlights how not white the screen background color is but there's no way I'd ever want to read for any length of time on the new Kindle when something like the Kindle Paperwhite 3 exists with a much better screen.
On the positive side, the new Kindle offers all the same reading features as the high-end models at a much lower price. Still, I think most people would be much better off spending $40 more on the Kindle Paperwhite 3. It's the most economical Kindle in terms of overall features and price, and you don't have to carry around a reading light or lamp everywhere to be able to see the screen.
Kindle Video Review
Comparison Review: Kindle Paperwhite 3 vs Kindle Comparison Review »
Hardware and Design
I was glad to see that Amazon improved the design on the new Kindle. I complained a lot about the previous model being too blocky and cheap feeling. The new one is trimmed down so that it's thinner and lighter, and the corners are more rounded so that it fits in your hand comfortably. The plastic doesn't have such a cheap feel either, although it still feels like a budget Kindle compared to the Paperwhite.
So the overall design is a nice improvement, but unfortunately that's pretty much where they stopped making improvements. Most of the specs and features are the same as the previous model. It has the same 6-inch E Ink Pearl screen with a resolution of 800 x 600, the same 1GHz processor, the same 4GB of storage space, and the same infrared touchscreen.
A bump in screen resolution or newer screen tech would've been nice, especially since there's no frontlight, but unfortunately that's not in the cards.
The main difference is the new Kindle adds Bluetooth support and double the RAM up to 512MB to run the VoiceView text-to-speech software. I already posted a review of the VoiceView feature using the Kindle Audio Adapter so I won't go into that again here (needless to say I don't think it works very well if you just want to listen to text-to-speech). Mostly it's just a gimmick; you'd be better off with a $49 Fire for TTS, and the battery would last a lot longer for audio.
Software Features
As mentioned above, the best thing about the $79 Kindle is that it uses the same software as the more expensive Kindle Oasis and Kindle Voyage. There are just a few subtle differences to accommodate for the lack of hardware features like the frontlight and page sensors, but all the Kindle reading features are the same.
The homescreen displays content using cover view. You can also switch to classic list view from the drop down list. Like all Kindles there are two sections: one for cloud content and one for on-device content. Sorting options include by title, recent, author, and collections, and there are sub categories for books, periodicals, personal documents, and collections. There's a recommend reading section and a new homescreen layout by default, but it can be turned off in settings.
Kindle Reading Features
Notes and Highlights: While reading, holding down on a word or holding and dragging across multiple words brings up the option to add highlights as well as text notes using the onscreen keyboard. Annotations can be viewed from the menu , and from the clippings file on the Kindle, and Amazon recently added a new email export option that sends your notes to your email address in PDF and csv formats. Notes can also be viewed and edited online at Amazon, and the clippings file can be exported and edited using 3rd party programs. Additionally, the Kindle has a feature called public notes and highlights that displays the most frequently highlighted passages within ebooks, along with notes. This can be toggled on and off in settings.
Font Choices: The Kindle has nine different font choices: Bookerly, Baskerville, Caecilia, Caecilia Condensed, Futura, Helvetica, Palatino, Open Dyslexic, and Amazon Ember. You can also embed custom fonts into Kindle books using Calibre.
Text Adjustment: All Kindle devices and apps have the same three line spacing and margin settings. And there are 8 font sizes to choose from.
Bookmarks: Tap in the upper right hand corner when reading to add and remove bookmarks. A list pops up that shows other bookmarks in the ebook, and tapping on them opens a second window to view the bookmarked page without leaving the current page.
Dictionary: Holding down on a word opens the dictionary window. From there you can scroll through the definition and select which dictionary to use in the lower right. The Kindle comes with two English dictionaries pre-loaded. More dictionaries can be added from the Kindle Store, several foreign language dictionaries automatically get added to the cloud after purchasing a Kindle.
Instant Translations: The Kindle has a translation feature that can translate single words or entire sentences into a number of languages without leaving the ebook. It uses Bing Translator so an internet connection is required. Languages include Chinese (simplified and traditional), Danish, Dutch, English, Finnish, French, German, Hindi, Italian, Japanese, Korean, Norwegian, Portuguese, Russian, and Spanish.
Reading Progress Indicator: The Kindle has an estimated reading speed timer that displays in the lower left corner that gives an estimate of how long it will take to finish a chapter or the rest of the book based on your reading speed. Tapping the lower left corner switches from chapter to book to location. It can also be toggled off.
Table of Contents: The Kindle has a "go to" function that open a book's table of contents to easily jump around the different parts of a book. You can also select to jump to the beginning or a specific page or location.
Fast Page Scan/Page Flip: Aside from the TOC window, another way to navigate an ebook is to tap on the top of the screen to open the menu bar and then tap on the tab at the bottom of the page, or swipe up from the bottom of the screen. This opens a second window where you can use a quick page scan feature to skim through a book. There are also buttons to move forward and back by chapter, along with a page dial to jump around parts of a book quickly. A new Page Flip feature was added to this for the ability to view 9 pages at one time, and it saves a history of your pages so you can easily jump around different parts of the book.
X-Ray: This feature analyzes the "bones of the book" and shows passages about common themes, characters, historical figures, and specific places or topics in a book. X-Ray then offers descriptions about them from Wikipedia and Shelfari.
Search: The Kindle has an advanced search feature that is always accessible from the menu bar. It uses predictive search so you usually only have to type the first few letters when searching ebooks. You can choose a number of places to search, including this book, my items, all text, Kindle store, Goodreads, dictionary and Wikipedia.
Sharing: You can share passages and messages on Goodreads, Facebook and Twitter.
Goodreads Integration: The Kindle has the option to connect with your Goodreads account to see what your friends are reading, share highlights, and rate the books you read. You can add books to your "Want to Read" shelf, update reading status, and more.
Landscape Mode: The Kindle has the option to switch to landscape mode for ebooks and PDFs from the text adjustment window, but it doesn't work with any other parts of the interface.
Language Support: The following languages are available in the settings menu: English (US or UK), German, Spanish, French, Italian, Dutch, Russian, Chinese, Japanese, and Brazilian Portuguese.
Parental Controls: There are parental control settings to restrict access to the Kindle Store, Cloud items, Goodreads, and web browser.
Kindle FreeTime: This lets parents setup profiles for kids where parents can choose specific books for their kids to read. Parents can set reading goals and track progress while kids earn badges and awards for reading. This can be used with books you own as well as books through the subscription-based Kindle FreeTime Unlimited program with kid-friendly books.
About the Author: Within a book you can select to learn more about the author, which loads a page with a description about the author along with a list of their published work.
Whispersync: This keeps your last page read, bookmarks, notes and everything else in sync across multiple Kindle devices and apps.
In-line Footnotes: Opens a second window when tapped instead of leaving the page.
Word Wise: A feature that makes it easier to read more challenging books. Short and simple definitions automatically appear above difficult words. Tap on a word to bring up a simple card with definitions, synonyms, and more. You can adjust the number of hints you see with a slider bar.
Vocabulary Builder: Whenever you lookup a word in the dictionary, it automatically gets added to a vocabulary builder list where you can study the words and definitions along with flashcards. This feature can be turned on and off in settings.
Partial Page Refresh: In the settings menu there's the option to turn on and off partial page refresh. Partial refresh is faster but it can lead to more ghosting and afterimage effects. Full page refresh flashes more but it helps make the text appear sharper and darker.
Web Browser: The Kindle has an "experimental" web browser. It is very basic but it can be used for things like reading news sites, referencing Wikipedia, and downloading DRM-free ebooks from websites and Dropbox. The browser offers an article mode that looks nice. Overall the Kindle's web browser is difficult to use because it loads slow, scrolling is wonky, and it crashes frequently.
Non-Amazon Content: The Kindle connects to Amazon's ebook store for ebooks and periodicals. You can also borrow library ebooks for the Kindle, get lots of free ebooks, and shop for DRM-free ebooks from various websites too. Epub formatted ebooks can even be easily converted to Kindle format.
Additional Kindle Reviews
2016 Kindle Specs
6-inch E Ink Pearl screen with 16-levels gray scale.
Infrared touchscreen with 2 point touch for pinch-zooming.
800 x 600 pixel resolution, 167 ppi.
4GB internal memory (about 3GB usable).
1GHz Freescale i.MX6SL processor, 512MB RAM.
Wi-Fi only (no 3G option).
Bluetooth (works with VoiceView feature only).
USB 2.0 port.
Supported formats: Kindle Format 8 (AZW3), AZW, KFX, TXT, PDF, unprotected MOBI, PRC; HTML, DOC, DOCX, JPEG, GIF, PNG, BMP through conversion.
Battery Life: 3-4 weeks.
Dimensions: 6.3″ x 4.5″ x 0.36″ (160 x 115 x 9.1 mm).
Weight: 5.7 oz (161 g).
Price: $79-$99 at Amazon.