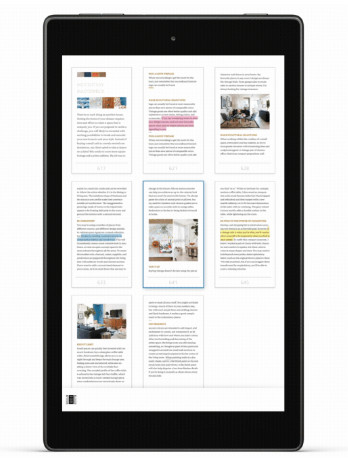 Earlier this week Amazon announced a new Page Flip feature for Kindle ereaders, Fire tablets, and the Kindle reading apps for iOS and Android.
I put together a quick video showing how the Page Flip feature works on a Kindle and the Kindle for Android app. The feature works a bit differently on each.
The Page Flip feature isn't available on all titles; it's basically an add-on to enhanced typesetting.
Unfortunately it doesn't work with PDFs or sideloaded content.
The product pages for ebooks at Amazon have a new note that states when a book has Page Flip enabled.
If you want to try out the new Page Flip feature a lot of the free Kindle classics have been updated to support it.
Amazon's press release said the Page Flip feature would be added via a software update but that doesn't necessarily seem to be the case.
My Kindle Paperwhite 3 hasn't been updated. It's still on firmware version 5.8.1 and the Page Flip works with it; support for it must've already been built-in. Initially it didn't work, though. I deleted the book, restarted the Kindle, then redownloaded the book to get Page Flip to show up.
That doesn't do the trick on my $49 Fire tablet, however, so apparently it does need to be updated first. But the software updates page at Amazon hasn't changed for it yet—it's still at 5.1.4 from back in May.
The update is available now for the Kindle for Android and iOS apps. If you already have a compatible book downloaded you'll probably have to delete it and redownload it to get the Page Flip option to show.
Update: The Page Flip feature is suddenly available on most of the ebooks that are on my Kindle now, even ones I didn't redownload. Even more interesting is the Page Flip feature works on sideloaded KFX formatted files that are converted using Calibre, and you don't even have to change anything because Page Flip already works.
Page Flip Demo on Kindle and Kindle App