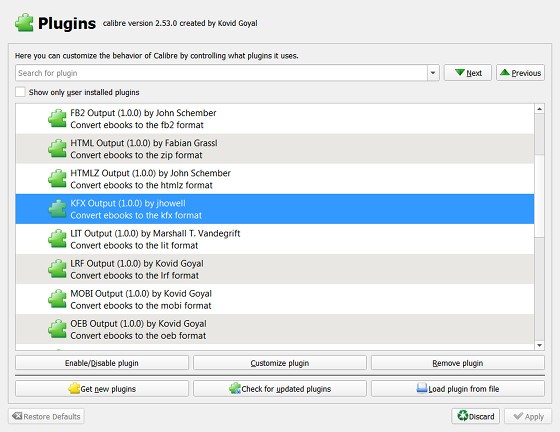 There's a new plugin available for Calibre called KFX Output that can convert ebooks into KFX format to make use of Amazon's enhanced typesetting. This makes it possible to convert, create, and sideload KFX books onto Kindle devices and apps, even ebooks obtained from outside of Amazon.
It's been nearly a year since Amazon first introduced their new enhanced typesetting engine for Kindle books that adds advanced formatting options like hyphens, ligatures, and improved word spacing.
Amazon created a new format for Kindle books that use the enhanced typesetting engine. The format is called KFX.
Up until recently there's been no way to create or convert ebooks into KFX format; the only way to get them was to download them to a Kindle device or app that supports KFX format.
Then last month Amazon released the Kindle Previewer 3, which lets authors and publishers convert and preview their books to see how they will look when using the new format and layout settings.
The problem with Kindle Previewer 3 is that it doesn't actually create KFX-formatted books; it just lets you preview them.
So jhowel over at MobileRead figured out how to create a plugin for Calibre that can repackage the data created by KP3 into a usable KFX file.
The plugin is still in its beta testing phase but you can manually install it into Calibre and it does indeed work, but some errors are possible. I tested it out with two ebooks. One got an error message and wouldn't convert but the second book worked and the enhanced typesetting looks perfect on my Kindle Paperwhite 3.
How to Convert eBooks to KFX Format
1. Install Amazon Kindle Previewer 3.
2. Install Calibre eBook Management Software.
3. Install KFX Conversion Output Plugin. Download the zip file from the end of the first post at MobileRead. To install it, open Calibre then go to Preferences > Plugins and choose to Load plugin from file and select the KFX Output zip file. Make sure to apply the changes and then restart Calibre.
If you're having trouble installing it, detailed installation directions can be found here on this Introduction to plugins article.
4. After the KFX Convert plugin is installed, all you have to do is add ebooks to Calibre and then convert them. Just make sure to select KFX as the output format from the conversion menu.
Right now the plugin only works for converting ePub to KFX, but if you have another format all you have to do is convert it to ePub first.
If you are having problems with the KFX Output plugin or want to help contribute to the further development of it, make sure to check out the dedicated thread at MobileRead: