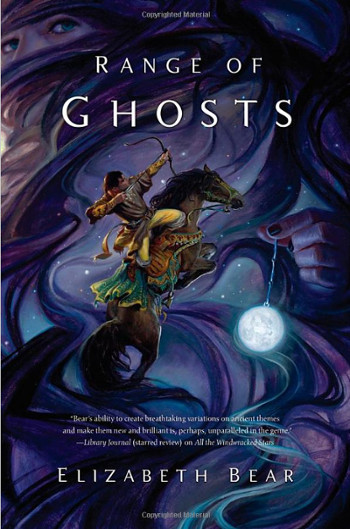 A few months ago Tor.com started giving away a free ebook each month as part of their ebook of the month club.
To get the free ebook all you need to do is give an email address to signup for Tor.com's monthly newsletter.
The ebook they are offering for free this month is Range of Ghosts by Elizabeth Bear.
The ebook is free for one week only from October 3rd through October 9th from the Tor.com website.
Tor's ebooks are available to download in ePub and Mobi formats, both DRM-free for your convenience so they'll work with all ebook readers or reading apps.
Please note that because of geographical restrictions they are only allowed to offer the free ebook to residents of the United States and Canada.
The Range of Ghosts ebook currently sells for $9.99 at Amazon for the Kindle edition so it's nice to be able to get it for free. You can use email, a USB cable, or a Send to Kindle app to send the Mobi file to your Kindle device or app.
Here's the description of the book:
Temur, grandson of the Great Khan, is walking away from a battlefield where he was left for dead. All around lie the fallen armies of his cousin and his brother, who made war to rule the Khaganate. Temur is now the legitimate heir by blood to his grandfather's throne, but he is not the strongest. Going into exile is the only way to survive his ruthless cousin.

Once-Princess Samarkar is climbing the thousand steps of the Citadel of the Wizards of Tsarepheth. She was heir to the Rasan Empire until her father got a son on a new wife. Then she was sent to be the wife of a Prince in Song, but that marriage ended in battle and blood. Now she has renounced her worldly power to seek the magical power of the wizards. These two will come together to stand against the hidden cult that has so carefully brought all the empires of the Celadon Highway to strife and civil war through guile and deceit and sorcerous power.