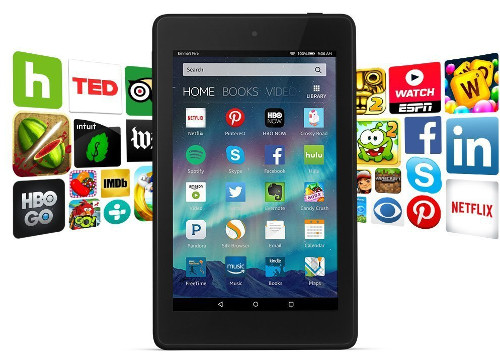 Amazon's Black Friday and Cyber Monday deals have ended for Kindle ereaders and Fire tablets, but similar sales will likely return a couple weeks before Christmas.
While the main sales are over, Amazon does have one remaining good deal for a Fire tablet. It's last year's model but it has current Fire OS 5 software so Google Play can easily be sideloaded.
The 16GB Fire HD 6 is currently marked down to $54.99.
That's $55 off the list price but it usually sells for $89.
Just yesterday Amazon was selling the 8GB version for $69, which is now sold out, so that's not a bad price, especially considering the HD 6 has a higher resolution screen than the other current Fire tablets.
The $55 16GB Fire HD 6 is the only version still available; the other 3 variations are sold out.
It turns out a lot Kindles and Fire tablets are sold out until at least mid-December; Amazon must have sold a lot of them this past week.
The Kindle for Kids Bundle and the Fire Kids Edition are out-of-stock for now, so are the colored version of the 8GB $49 Fire, only the black model remains available.
The entry-level Kindle is also gone until mid-December but there are still ones without special offers in stock. The Kindle Voyage is also sold out until December 13th unless you go with the 3G model or one without special offers.
Amazon ran out of the refurbished Kindles that they were offering over the past couple of weeks too.
Later today Amazon will probably releases some ambiguous sales numbers for Black Friday and Cyber Monday. Something like they sold "millions" of Fire tablets and 23% more Kindles than last year.