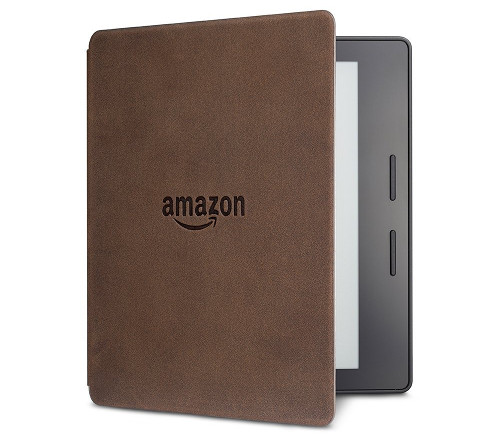 Somehow I never noticed this until today, but Amazon now sells replacement charging covers for the Kindle Oasis.
All three colors are available, Walnut, Black, and Merlot. The price for the cover alone is $89. That's pretty expensive for a small flap of leather but obviously it includes a built-in battery as well.
The Kindle Oasis was first released back in May 2016.
It's the first Kindle to come with a separate charging cover that is designed to be removed while reading to minimize weight.
When I reviewed the Kindle Oasis, I pointed out the fact that the charging cover is such an integral part of the equation that the Kindle Oasis is nearly useless without it.
On its own the Kindle Oasis's battery can only last for a few hours, so the cover is pretty much required unless you want your Kindle tethered to an outlet all the time.
Given that, it's good to see there's at least the option to buy a charging cover separately in case the original goes bad or gets lost or damaged.
It also gives people the option to switch colors if they want to, especially since black was the only one in stock for a long time.
The $89 cover proves a large portion of the price of the Kindle Oasis is because of the cover. Without it the device would be the same exact price as the Kindle Voyage.