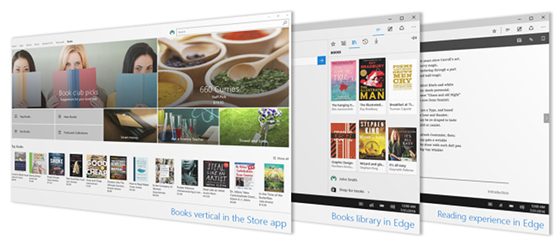 Microsoft is getting back into the ebook market once again.
They were once known for their LIT ebook format some years ago, and then they invested in Barnes and Noble's Nook Media business in 2012 and lost a boatload of money.
Now Microsoft is opening their very own ebook store for PC and Mobile on Windows 10.
The new ebook store was unveiled with the latest Windows 10 Insider Preview.
In fact beta testers in the US can already purchase ebooks from the Windows Store with the latest build.
The way it works is the ebooks are tied to the Microsoft Edge web browser, which now supports both ePub and PDF files.
They also made it so that the Microsoft Edge web browser supports any DRM-free ePub files.
So the Edge browser is essentially Microsoft's new ebook reading app, and it comes complete with features you would expect from a reading app, like adjustable font sizes, bookmarks, different themes, etc.
You can also run searches and ask Cortana for definitions of words and view embedded videos and audio content.
You can even download purchased ebooks to the browser so reading offline isn't an issue.
It's good to see another major company getting into the ebook space, especially in the US, but limiting the market to PCs and mobile devices that run Windows 10 is a serious problem.
It would be great to see Microsoft release their own dedicated ereader to compete with the Kindle but that's probably not going to happen. Why is it that Amazon is the only major company in the US that is willing to release a dedicated ebook reader? Both Apple and Google sell ebooks but neither has ever released an E Ink ereader. Maybe Microsoft will break that trend eventually if their new ebook store does well enough.
via: PC World