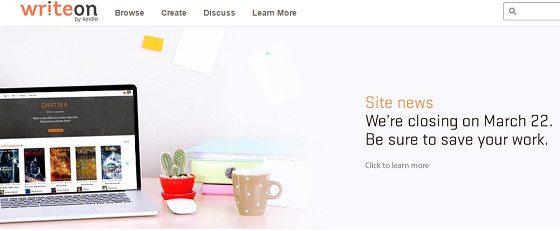 Amazon started a website called Write On by Kindle back 2015 to help aspiring writers learn the craft and share works-in-progress with others to improve their stories.
Yesterday they announced that Write On by Kindle will be closing on March 22nd, 2017.
Community members are advised to download their posted and drafted stories by then to retain the content and story comments.
They didn't give a specific reason for the closure, but they did mention that they were unable to grow the platform in the way they had wanted.
It probably comes down to a lack of revenue generation.
One of the reps posted this reason in the forum:
One of our goals is to constantly be innovating on behalf of readers and authors, so we're always trying out new things. Write On is one such experiment, and, unfortunately, we were not able to grow it in the way that we had wished. It was a tough decision, but it's for that reason we have decided to stop offering the service.
People that use Write On by Kindle are now looking for alternatives. Maybe Kobo will pick up the slack yet again…