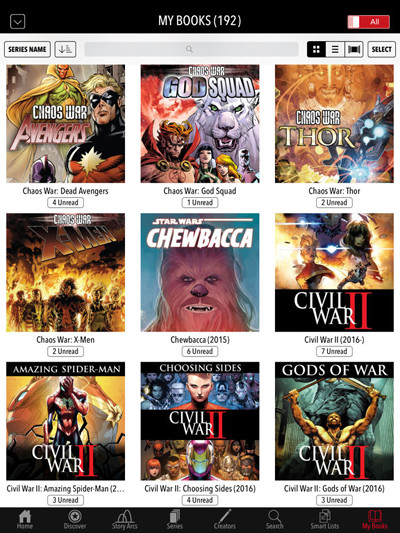 Below is a list of the top 10 iOS comic apps for iPads and iPhones to go along with the list of 10 best reading apps for iOS that I posted a couple weeks ago.
Comics have benefited a lot since the transition to digital, although the whole collectability factor goes out the window when you can't sell a rare digital comic for thousands of dollars like you can a paper comic.
But a device like an iPad is well-suited for comicbooks and being able to have them all on a single device is handy.
There are a number of comic apps for iOS.
Some apps have a selection of free comics but obviously most are paid.
Best iOS Comic Apps
Marvel Comics – The Marvel Comics app is the most popular comic app for iOS and it includes favorite characters like Iron Man, Thor, Captain America, Spider-Man, Wolverine and more.
DC Comics – Another popular choice is DC Comics apps. It has one of the largest libraries of comicbooks, with characters like Superman, Batman, Wonder Woman, Green Lantern, and The Flash.
Transformers Comics – Includes over 500 comics centering around the Transformers universe, with movie tie-ins and adaptations, and classics from the '80s and '90s.
Comics Plus – Delivers Same Day Digital single issues and graphic novels from DC Comics and Vertigo. Comics Plus also offers graphic novel rentals and the app supports importing comics in ePub, PDF, CBR and CBZ formats.
Comixology – Owned by Amazon, another popular comic app for iOS is Comixology. They offer a selection of 100,000 digital comics, graphic novels and manga from a wide variety of publishers. They also have a monthly subscription service for access to a library of curated titles.
Dark Horse Comics – Another popular option with over 4000 comics to choose from.
Marvel Unlimited Comics – Provides instant access to a library of over 17,000 digital comics, including stuff like Spider-Man, The Avengers, Iron Man, Captain America, Thor, Black Widow, Hulk, X-Men, Guardians of the Galaxy, Inhumans, and Black Panther.
IDW Comics – This app has more than 3,800 in-app comics to purchase, with a selection of free books as well.
The Walking Dead – The comicbook version of the popular TV show, The Walking Dead. The first issue is free, the rest are paid.
Madefire Comics & Motion Books – A selection of comics and motion books from top publishers like DC Comics, IDW, Dark Horse, Oni Press, Liquid, Valiant and Top Cow.