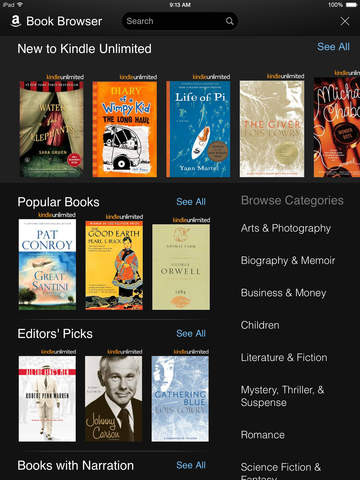 The iPad and iPhone are very popular devices that have become common go-to options for reading ebooks, especially on the go.
There are far more iPads and iPhones in the world than there are dedicated ebook readers like the Kindle, so for this post let's do a roundup of the best reading apps for iOS devices.
Apple of course has their own iBooks reading app, but I always caution people about buying from iBooks because the ebooks are permanently locked into Apple's ecosystem for good and can never be read on any other devices.
You can buy the exact same ebooks from Amazon, Kobo, or Google and read them on a multitude of devices, not just one platform and brand.
Buying ebooks from other ebook stores on an iOS device is a little more of a hassle because you have to use the web browser instead of the app (otherwise they have to pay Apple 30% of each sale) but that's a minor inconvenience to avoid having your ebooks locked into one brand forever.
To make things easier, this list of best iOS reading apps is broken down into a few different categories.
Main eBook Store Apps
Kindle – The Kindle app is the most popular reading app for iOS. It has a bunch of integrated features, including Whispersync for Voice to read audiobooks aloud, and Kindle Unlimited, Amazon's ebook subscription service. You can add PDFs and DRM-free ebooks and documents to the app with Send to Kindle.
Google Play Books – Another big name for ebooks, Google's reading app is available on iOS devices. The app also supports uploading your own ePub and PDF files to the app as long as they are DRM-free.
Kobo Reading App – Another popular option for ebooks is Kobo. They have a large library to choose from, including magazines. The nice thing about Kobo is they have their various reading apps for different platforms, plus dedicated ebook readers like the Kobo Aura One, and their ebooks can be downloaded in Adobe ePub format to read with other apps and other brands of devices as well, so there are plenty of options for reading.
Nook – Barnes and Noble's Nook app for iOS is quite nice but you're better off avoiding it with the way B&N runs their ebook business. Like Apple, they've made it so you can't download your purchased ebooks outside of the app, so unless you want your ebooks locked into B&N for good then buy from somewhere else.
Best 3rd Party Reading Apps
Marvin 3 – This app supports DRM-free ePub ebooks as well as CBX and CBR comics. Marvin might have the most features of any reading app on iOS. The list just goes on and on. There's also Marvin Classic for older devices.
Bookari – Formally known as Mantano, Bookari is another popular reading app for iOS that's not limited to one store. It supports ePub and PDF files, including books with Adobe DRM. The app sells for $4.99.
Aldiko Book Reader – Formally an Android exclusive app, Aldiko is now available on iOS as well. The app supports ePub and PDF, including books with Adobe DRM, and it works with ebooks from public libraries.
Scribd – This app provides access to Scribd's library of ebooks, audiobooks, and magazines for a monthly subscription fee.
Apps for Library eBooks
OverDrive – The OverDrive app lets you borrow ebooks, audiobooks, and videos from public libraries for free. All you need is a library card.
Hoopla Digital – Another option for library ebooks is Hoopla. They offer movies, music, and audiobooks as well with a library card.