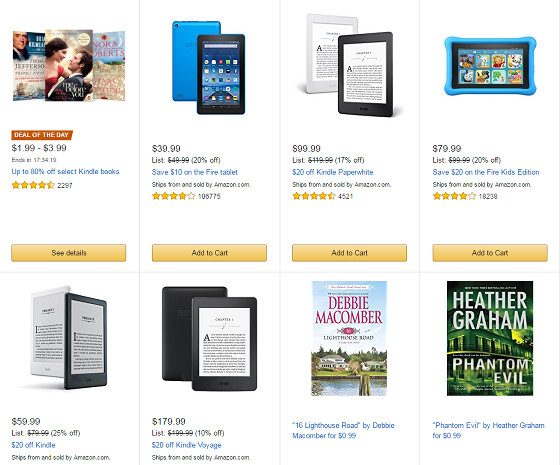 Once again Amazon has added a selection of discounted Kindle ebooks as one of their main Gold Box deals of the day.
It's a 1-day only sale that takes up to 80% off select Kindle ebooks. They are priced at $1.99 to $3.99 each.
There are only a few titles on the list this time around but most are well-reviewed and have at least 4.5 stars.
Amazon ran a bunch of these kind of sales at the beginning of the year but things have been quiet for the past month so it's good to see these Kindle book deals coming back again.
This is also probably the last day that Kindle ereaders and Fire tablets will be on sale, although I can't find an end date anywhere so the sale might last a few days longer, but they usually only last for a week and it's been a week now.
Either way this will probably be the last time they go on sale for awhile since there aren't anymore major shopping holidays coming up until Mothers Day, and that's when Amazon usually puts their devices on sale.
Kindle Sales Links
$59 Kindle – $20 off
$79 Kindle for Kids Bundle – $20 off
$99 Kindle Paperwhite 3 – $20 off
$179 Kindle Voyage – $30 off
Kindle Bundle Links
$94 Kindle Essentials Bundle – $35 off
$139 Kindle Paperwhite Essentials Bundle – $40 off
$234 Kindle Voyage Essentials Bundle – $45 off
Fire Tablet Sales Links
$39 Fire Tablet – $10 off
$79 Fire Kids Edition Tablet – $20 off
$79 Fire Tablet Variety Pack – $20 off
$57 Fire Essentials Bundle – $15 off