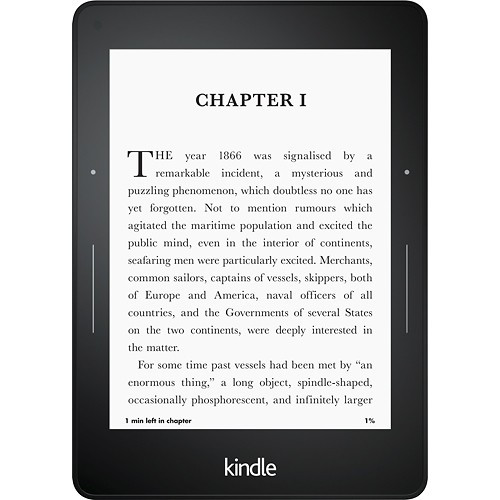 One question that often comes up is how to load ebooks onto a new Kindle.
If you had a previous Kindle then you don't really need to do anything. All of your purchased Kindle ebooks will automatically be available on your new Kindle, complete with all your highlights, bookmarks, last page read, etc.
If you have some non-Amazon ebooks then there are several ways to load them on a Kindle.
Kindles support a few formats in addition to Kindle formats, including PDF, TXT, MOBI and PRC.
Amazon also offers a free conversion service that can convert HTML, DOC, DOCX, JPEG, GIF, PNG, and BMP files to Kindle format.
Here are six different ways to load ebooks on a Kindle:
1. The Cloud – They don't call it "cloud" anymore but that's the best way to describe it. All Kindle ebooks that you ever buy get associated to your account so they are available on any Kindle or Kindle app registered to your account, meaning there's no need to "load" Kindle ebooks onto these devices, just download them from the "all" section.
2. Calibre – Calibre is the most popular third-party ebook software for managing your library and for converting ebooks to other formats. It's one of the most common ways to send non-Amazon ebooks to a Kindle, and with a plugin you can easily remove the DRM from ePub ebooks to convert them to Kindle format.
3. Send to Kindle Apps – This is the quickest and easiest way to send documents, PDFs, and non-Amazon ebooks to a Kindle. With a send-to-Kindle app you can send files from your computer or Android device, and articles from a web browser. They get delivered wirelessly to your Kindle so you don't have to mess with using a USB cable to sideload. Works with the following formats: DOC, DOCX, HTML, HTM, RTF, JPEG, MOBI, AZW, GIF, PNG, BMP and PDF.
4. Email – This basically works the same as using the send to Kindle apps above but with email instead. No need to install anything, just send files to your Kindle using email. Works with the same formats listed above. If you add "convert" to the subject line for PDFs they will be converted to Kindle format, which effectively works the same as PDF reflow.
5. Sideload via USB – If you own a Kindle device you have the option to download all your purchased Kindle ebooks directly from your Amazon account using the Manage Your Content and Devices page. You can then sideload them to your Kindle from a computer using a USB cable, a helpful option if you don't have Wi-Fi. Additionally, you can wirelessly send ebooks to your Kindle from the MYKD page by selecting "deliver to" from the actions menu.
6. Web Browser – Another way to get non-Amazon ebooks onto a Kindle is by using the built-in experimental web browser. It can download MOBI, AZW, PRC, and TXT formats directly to the Kindle from a number of free ebook websites and sites that offer DRM-free Kindle books.