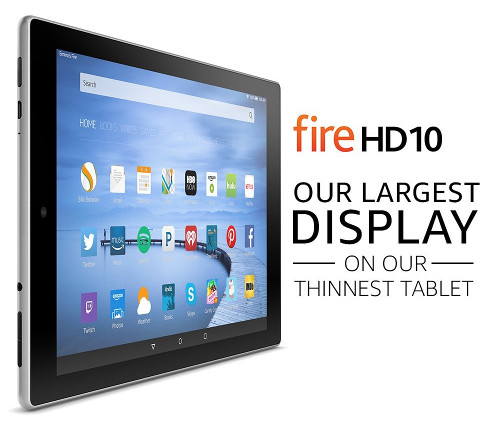 There's something weird going on with the Fire HD 10, Amazon's current 10-inch tablet.
Right now Amazon has the 16GB silver aluminum Fire HD 10 marked down to just $129.
That's $100 off the regular price, but the weird thing is they aren't even advertising it as being on sale.
Furthermore, the 16GB silver model is the only version left.
All the 32GB versions are gone and so are the black ones.
Is Amazon about to replace the Fire HD 10?
They don't say out-of-stock for the ones that are gone; they just direct to used tablets or say it's currently unavailable, which is usually what happens when a model has been discontinued.
Normally Amazon gives an estimated date if something is coming back in stock. This looks more like they are going to replace the Fire HD 10 with a newer model and they've slashed the prices to clear out the remaining inventory.
It will be interesting to see how this turns out. Amazon doesn't usually release new tablets this time of year, but they did release the Kindle Oasis last April so perhaps they're planning another early release this year.
Update: 5 minutes after posting this article the price went back up to $229, but then a little while later it was back at $129 again, and now it's up to $229 after a few hours. This reminds me of the time when the previous generation Fire HD 8 mysteriously went on sale on and off at a deep discount. Then they ended up releasing a much cheaper Fire HD 8 so maybe they're testing to see how well a lower-priced Fire HD 10 will sell.