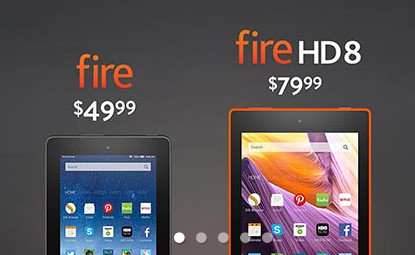 I don't know what's going on with Amazon but they keep dropping the price of the Fire HD 8 to $79 or $99 for a few hours each day. This has happened for three days in a row but just for a few hours at a time. See updates below…
It normally sells for $149. Even when it goes on sale it never gets anywhere close to that low so it's a bit perplexing.
The really strange thing is Amazon isn't even advertising it as being on sale.
They're making it seem like $79 is the new starting price, but so far there's been no announcement made about it.
It could be a pricing error, but the new price is mentioned everywhere, even on Amazon's homepage, so that doesn't seem very likely. Perhaps they just haven't started promoting the deal yet.
Either way, $79 is a great price for the Fire HD 8. Here's my Fire HD 8 review from when it was first released.
As the name suggests, the Fire HD 8 has an 8-inch screen with a resolution of 1280 x 800 (189 ppi). It's one of the new models that was released in 2015. It's quite a bit nicer than the $49 Fire. Here's my comparison: $49 Fire Tablet vs Fire HD 8 Comparison Review. Now that it's only $30 more the decision is a lot better in its favor.
The 8GB model is $79 and the 16GB model is $99. Both have microSD card slots, dual speakers, front and rear cameras, quad-core processors, Bluetooth and WiFi. They run Fire OS 5, and Google Play can be installed quite easily. There are four color choices: black, magenta, blue, and tangerine.
Update: It must've been a pricing error after all because now it's back to $149 after just a few hours.
Update #2: Now on Sunday Amazon is showing the Fire HD 8 for $99 for 8GB and $119 for 16GB on their website so who knows what's going on…
Update #3: A few hours later and it's back to $149 again. What is going on?
Update #4: So on Monday morning it was back to $79 again for 8GB and $99 for 16GB, but the prices only lasted for a few hours before going back to $149 and $169. Something strange is definitely going on… Will it happen again tomorrow?