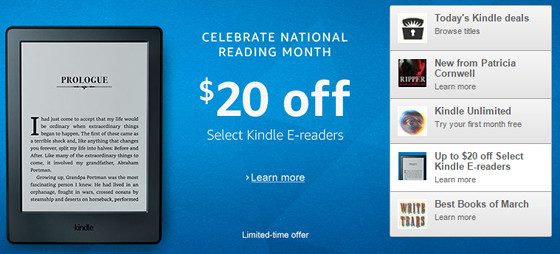 Amazon has been having a sale on Kindle ebooks just about every Sunday lately and today is no exception.
Once again they've got a list of Kindle books on sale today only as one of the main gold box deals of the day.
They've also put some Kindles on sale for $20 off, apparently because it's national reading month.
$59 – Kindle
$79 – Kindle Kids Bundle
$99 – Kindle Paperwhite
$179 – Kindle Voyage
Like usual the Kindle Oasis isn't included in the deal for some reason, which is kind of strange.
In other deal news, the Android-powered Inkbook Prime is on sale for $119, which is also $20 off, and the Inkbook Classic is $10 off at $79. I plan on reviewing both later this month.
Amazon also has the Kindle Fire HD on sale at Woot for $39, but it's so outdated by this time you'd be better off just getting the current Fire tablet for $10 more unless you want the higher resolution screen.