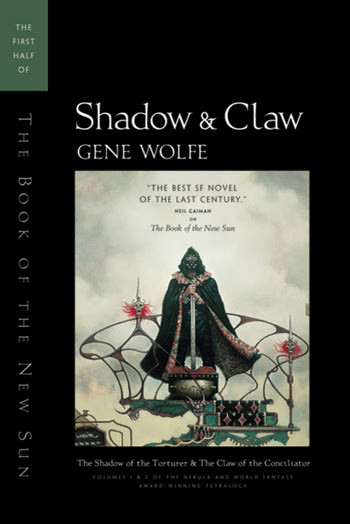 Tor.com has a new free ebook available to download as part of their ebook of the month club.
This month's free ebook was posted a week later than usual but it's better late than never.
For the next week you can get the ebook version of Shadow & Claw by Gene Wolfe for free.
Just head over to the Tor website and signup for their monthly newsletter.
Then they'll give you the option to download the ePub version of the book or Mobi for Kindles, both of which are DRM free.
The book is free for one week only, through March 13th.
Tor publishing has been giving away a paid ebook for free at the beginning of each month since July of last year.
Shadow & Claw is technically two books. It contains the first two books in the The Book of the New Sun series: The Shadow of the Torturer and The Claw of the Conciliator.
I remember reading the first book a long time ago and didn't like it enough to read the second. I just remember it having a very strange and obscure style, with lots of things left unexplained. The series is regarded as a classic and people consider it Gene Wolfe's best work, so it's worth checking out for free.
Here's the description of the books from Amazon:
The Shadow of the Torturer is the tale of young Severian, an apprentice in the Guild of Torturers on the world called Urth, exiled for committing the ultimate sin of his profession — showing mercy toward his victim.
The Claw of the Conciliator continues the saga of Severian, banished from his home, as he undertakes a mythic quest to discover the awesome power of an ancient relic, and learn the truth about his hidden destiny.