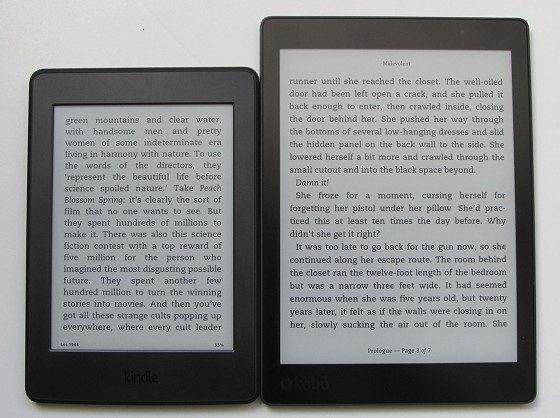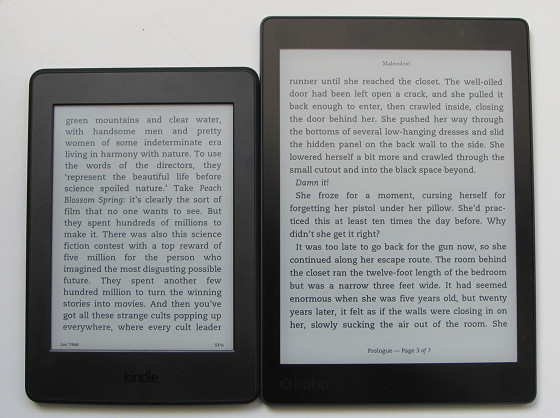 Now that Kobo offers the Kobo Aura One with a screen size of 7.8-inches, it makes you wonder if Amazon is going to release a similar-sized Kindle in 2017.
Currently Amazon sells four different Kindles. All of them have 6-inch E Ink screens, and three of the four have the exact same 300 ppi E Ink Carta screen.
Lots of people have been calling for a larger Kindle for years; it's probably the #1 requested feature.
Amazon teased everyone back in 2009 and 2010 with their 9.7-inch Kindle DX, but it was abandoned after the 2nd generation model and never updated again.
Since then Amazon has released ten different 6-inch Kindles in a row with no other sizes to be seen.
Now that the 7.8-inch Kobo Aura One has proven to be a hot commodity with an in-between screen size, perhaps 2017 could finally be the year for a larger Kindle.
The 7.8-inch screen is a good size without being too heavy. It didn't take long for me to realize that I much prefer the larger screen over a typical 6-inch screen. The picture above shows the 6-inch Kindle Paperwhite next to the Kobo Aura One from the comparison review.
With the 7.8-inch 300 ppi E Ink screens now in production, Amazon would have to be extremely stubborn to not use them. If people want a larger Kindle what's the point of denying it to them?
The Kindle's tenth anniversary is later this year. The 1st generation Kindle was released in November 2007. Amazon needs to do something big for the occasion. A bigger Kindle would do the trick just fine.